Driving by numbers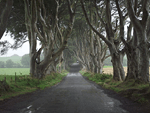 Europe is a rather small place. You are bound to cross borders often when moving around.
I commute between two federal states of Germany day in, day out. One can't miss the line with all its bells and whistles, signposts and banners.
Borders are made to be observed, after all.
The border between Ireland and Northern Ireland is invisible, literally. There is none. You notice the change by the scale on road signs. Speed limits and distances drop or raise suddenly depending on your travel direction, without any reason.
Kilometres? Miles? Imperial? Metric? The numbers make the difference, the only one. Now you are abroad, and now you are back again.
I wonder if this will stay that way for long, with the Kingdom leaving the EU.
The EU membership referendum of 2016 asked the British a single question: Should the United Kingdom remain a member of the European Union or leave the European Union? On the whole, 52% voted to leave, while 48% chose to remain.
This is just the big picture, though.
In tiny Gibraltar, not more than a cliff at the southern tip of Spain, 96% were to remain. All voting areas of Scotland decided to remain, with the total score of 62% to 38%. Greater London voted 60% to 40% to stay. A firm majority of 56% in Northern Ireland were in favour of remaining, too.
The vote left enough numbers to analyze and raise questions. For me, the most telling are these two: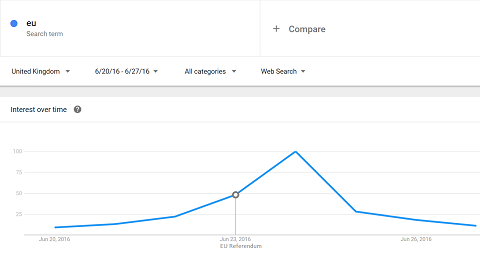 The graph shows the dynamics of Google searches for "eu" within the UK during the referendum week—the bulk of them was carried out the day after the referendum.
And this, vote results by age:
| | | |
| --- | --- | --- |
| Age | Voted to leave | Voted to remain |
| 18 - 24 | 29% | 71% |
| 25 - 49 | 46% | 54% |
| 50 - 64 | 60% | 40% |
| 65+ | 64% | 36% |
Data by YouGov, based on the post-referendum poll of 5,242 voters
It seems that those to live with the result the longest were against it.
PS Numbers and statistics, and Northern Ireland and Game of Thrones are topics of the next two newsletter issues. Subscribe at top of the page, or on the dedicated one.