Rain in paradise
"You better leave your life vests at the pier before venturing out. They might go off in the rain, we saw it happen."
We are in the small harbour of Puerto Edén, just out of zodiacs, and from head to toe in waterproof gear.
The village sits on a small island lost in the labyrinth of Chilean fjords, only accessible by boat, facing the nearing winter, drowning.
The guides are seeing us off to roam the place on our own, and off I go.
It's raining cats and dogs, and all other creatures. I am glad to have left the camera on the ship, it is awkward to be without, the hands seem totally useless, hands down, I shrug to keep them busy.
The hamlet is a crisscross of boardwalks in different states of repair, it seems they would keep it in place from sliding downhill, and it looks as if missing planks already put some ends out of reach, lost them to the elements, forever, irreversible.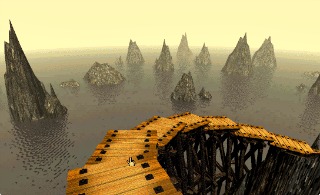 I can't help thinking of Myst, that old adventure game, and its Ages, with their isolation, and their confines, and their pathways.
I have to think of its unnamed hero, fallen into its world by accident, having opened a wrong book, or was it the right in the end? There wasn't even an end, just thereafter.
The boardwalk here does have an end, it leads to a gazebo protruding into the sea, there is a chair, not very comfortable one, plastic and tubes, with legs thin enough to pass through cracks in the floor.
I move the chair, trying to avoid the void underneath with all legs, and sit down. I look out to the sea and check the time on my mobile, there is still plenty.
The rain hasn't stopped, but at least I have a roof over head here. I listen to the rain and keep thinking about Myst and this, my adventure.
The weather was nicer in the game. Yes, the weather was so much nicer.
The pictures from Patagonia are online now. If you need a soundtrack while watching them, try this.