Dog days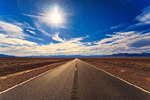 These last several weeks have been extremely hot all over Europe. The current forecast assumes it will stay this way, for a long while.
I have had enough, I am ready to escape. 30 hours after I will have posted this, I will hopefully land in Greenland, on to discover Thule, the mythic world's end of the Greeks and Vikings, in single-digit degrees Centigrade, thirty-to-forty-something Fahrenheit, for a change.
The same scorching heat tormenting the northerners lately seems to have taken care of the sea ice along the planned route of my cruise. Ironic, I am going to benefit from what everybody around, including myself, has been suffering for so long.
Notes to self: Open windows don't make the heat disappear, quite the contrary. Retaining some decency in your attire doesn't make you feel more comfortable, but so much more confident. The life still goes on, but on a low heat, or so it seems, strange, high vs low and outer vs inner. The latter note doesn't relate to arguments, though.
Two days ago, the longest total moon eclipse in this century took place, as an omen of some kind.
I am off to pack, I hate it.

During my holiday, I won't be able to check my emails, nor tend to your orders, sorry. I will be back on August 15.