The Rock: Capri in low season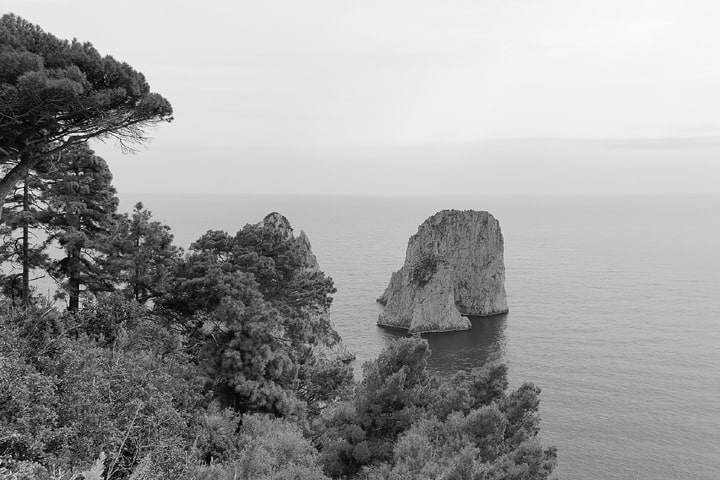 Enjoying Capri without crowds (and sun): one of the pictures from the photo book
The Rock is the latest addition to the ever-growing collection of exquisite coffee table photo books featuring my pictures.
It truly deserves its own page, though, for several reasons.
Sounds good? Read on!
What you get
The photographs
Where in the world: The views are here
The book contains 48 selected pictures taken during a week-long stay on Capri between March and April, long before the crowds invaded the island.
The April weather lived up to its name and didn't spare with chilly mornings, occasional showers, and stormy winds. The end of the week saw the Vesuv — visible from my hotel room when the fog allowed it — covered in fresh snow.
The hotel opened for the season the day before my arrival, available places to eat were scarce, and all fashion shops stood in different stages of renovation.
It was wonderful.
I almost missed my plane home when fast ferries were canceled because of rough seas on the day of departure. The old, slow ferry took me over the Gulf of Naples to an unacquainted harbour terminal just in time for a hasty taxi ride through empty streets of a late Sunday morning to the airport.
"Once upon a time there was a wave who loved a rock in the sea, let us say in the Bay of Capri. The wave foamed and swirled around the rock, she kissed him day and night, she embraced him with her white arms, she sighed and wept and besought him to come to her."

Erich Maria Remarque, Arch of Triumph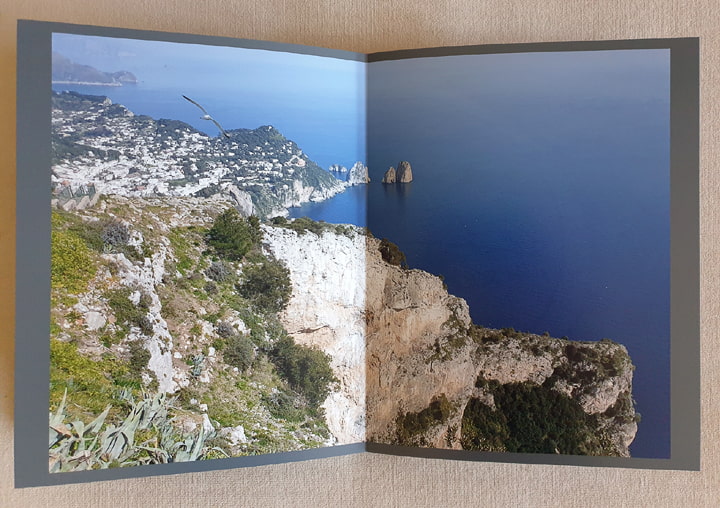 Enjoy large-format photographs seamlessly presented in lay-flat binding


On Monte Solaro, Capri's highest point
The book
The book sports 98 inner pages made of true, heavy matte photographic paper. The paper is perfectly fit to reproduce fine details and a great tonal range of both colour and black-and-white pictures. Its smooth coating also prevents distracting reflections and keeps fingerprints at bay.

The hard cover has a signature eggshell fabric surface which is very pleasant to touch.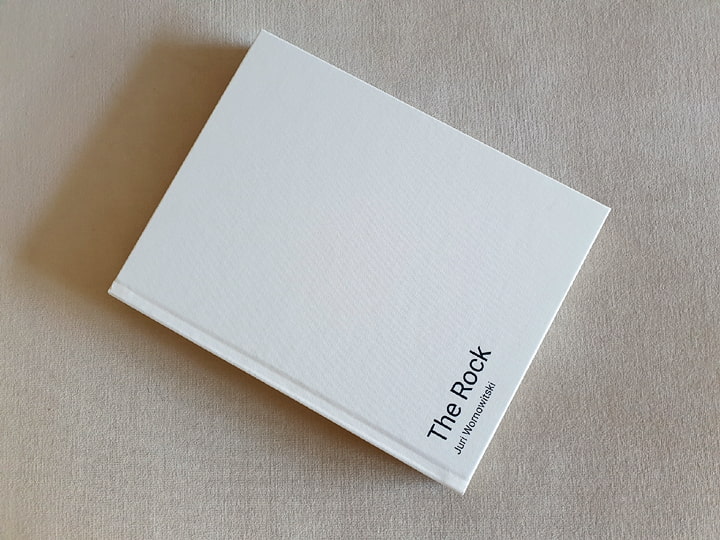 The photo book features 48 pictures from Capri, Italy
The book shares a simple, understated layout with previous editions in a highly collectible series. Due to its portrait format, it now slips more easily onto your bookshelf. 
"What's so special about it?"
A very good question! Quick answer: you can touch it.
If you remember the time when photographs had to be developed and printed to be enjoyed, you'd probably know what a difference it made to hold a real thing in your hands, instead of looking at a glimmer on your monitor.
If you know your pictures in digital form only, be prepared for a complete new visual and emotional experience.

The sensation is even more direct than comparing ebooks to their paper brethren. This is like feeling the original painting in a museum rather than only seeing it on a thumbnail image along a Wikipedia article.
Computers and internet are great, but they reduce our perception of the world to sight and sound only. Dare to stand up from your desk and get to know what lies beyond — with all your senses.

You may be surprised.

You may even like it.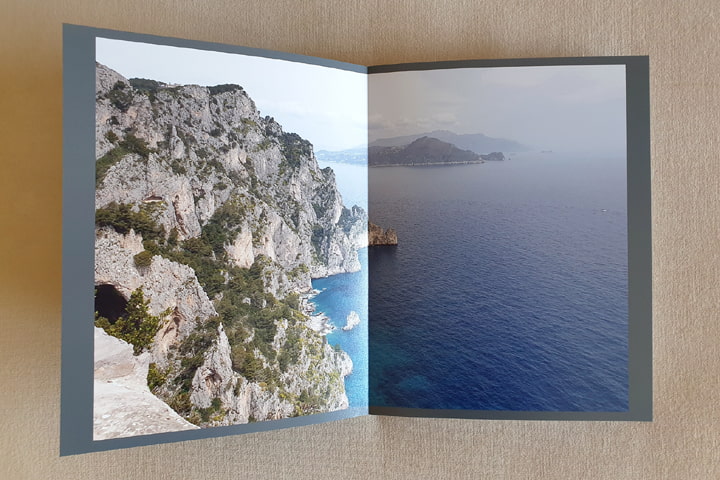 Looking from Piazzetta delle Noci to Salerno and Amalfi coast
How to order

This is simple!
Scroll down to the order form. The edition you can order on this page is already selected.
Choose the size of your photo book.

The "small" format is very handy to hold and pass around but still quite impressive.
The choice from the provider's Professional Line is slightly larger than A4 when folded. It is handmade from specially selected materials.
Relative dimensions of book formats, spread out
You can compose a personal message to be printed in the top left corner under the front cover of your photo book, for example, as a dedication to accompany a gift.
Before your order goes into production, I will contact you to make sure it appears exactly as you wish.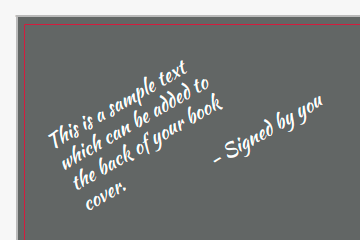 A personal message can appear in your book
Select delivery country for your order. Currently, 26 destinations in Europe can be served. Please consult the drop-down list in the order form.
And you are almost done! Just add your name and email address, tick off legal stuff requirements, and click on the Buy Now button to finalise your order at PayPal's.
"I want it!"
Sure, glad you do! Complete the form below and click the Buy Now button.

You will be forwarded to PayPal to finish your order. Be assured:

You are covered by PayPal's Purchase Protection.
Your payment data will be securely processed on the PayPal server.
Your photo book is guaranteed to meet your full satisfaction.
In short: You are about to make a good decision and enjoy it for years to come!
Questions you might have
Can I trust you?

Yes, you can. Your payment with PayPal is covered by their Purchase Protection and secured in case of problems with delivery.

My country isn't listed in the order form. Can I still order with you?

The list in the order form is comprised of countries the printing service are able to deliver to directly. If you reside elsewhere, there are two possibilities. The easiest would be addressing your book to friends or relatives in one of the "safe" countries. Otherwise, be sure to use the form below and contact me about the issue. Usually, I would just direct your order to my address, then send it your way by myself. (Additional shipping charges may apply in this case.)

What currencies can I use to pay?

You can pay in euros.

Is VAT included in my price?

The total price shown is the exact amount you will be asked to pay. This includes the German VAT on production costs, the shipping to your destination and a small author's fee.

Do I need a PayPal account to order?

Not necessarily. The option to pay with your credit or debit card is usually provided for those who do not have a PayPal account. However, due to regulations in some countries, you may require a PayPal account in your location. In this case, if you do not have one already, you will be able to create it during checkout. The account is free, as is using it for buying online.

How long will it take to produce my photo book?

Usually you should be able to receive your order within seven to ten working days. After your photo book ships you will receive a link to track its whereabouts while in transit.

My photo book has a production defect, or was damaged in transit. What can I do?

If you have a reason to complain about quality of your photo book, use the form below to describe the fault. I will ask you for some pictures to illustrate what you mean. Your photo book will then be replaced and resent to you at no additional cost, without need to return the defective original.
If you have another question or a problem ordering, don't hesitate to get in contact:

Tags: #amazingplaces #hiddenitaly #photobooks #everydayluxury
Looking for unique wall art?
If you like pictures on this page, be sure to visit the online shop and browse prints of Italian Alps landscapes available there.
Ask for a quote on your favourites, made to order with exact dimensions and your choice of frame!
Fine art landscape photography prints and books
| | |
| --- | --- |
| The Rock Capri photo book | |
Tell me what you think!
Is it useful 👍? Awful 👎? Leave a message! Your comments help making this site better (and give me a kick—one way or another).