…As white can be: Snow landscape photography art print

Enchanting snow landscape on a large-format photo print: click to see in full screen
Can't get enough of winter? This snow landscape art photo print will vividly remind you of season's joys outside and the warm within, by making both opposites meet in its simple and captivating black-and-white display.
It is New Year's Eve day in 2012. That is, 2012 is coming to an end, and 2013 is about to start.
The short week from Christmas to year's end is what Germans call "between the years". This is a strange stretch of no-time, like nowhere's equivalent in the calendar. Many spend it for their remaining annual leave, taking a rest from the holiday season and its funny rituals, family reunion, gift giving, ridiculous food overdose.
There is little happening in the business world, and in the world as a whole, luckily, we all seem to take a deep breath before the next round of time will claim our attention, just a couple of days away, in no time at all.

This feeling of being time-less is in the air. The void of the landscape in front of you and its apparent standstill enclose you the more you look.
After a while, you notice that it is snowing. Then you may spot two small figures in the distance, beyond the frozen lake, walking along the forest edge to some unknown destination where it is warm and vibrant.

It has to be warm if it is worth the effort, and so the photograph conveys this warmth hoped for, not the cold pictured. Just see!
"In the winter time we go
Walking in the fields of snow;

Where there is no grass at all;
Where the top of every wall,

Every fence, and every tree,
Is as white as white can be."

James Stephens, White Fields
Taking a look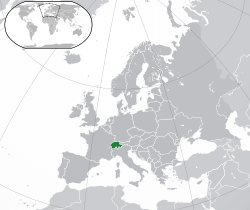 Image by Hayden120 and NuclearVacuum, via Wikimedia Commons
Where in the world…
The mountain resort village of Lenzerheide/Lai is situated a half-an-hour drive by car or public bus away from Chur, the principal town in the Swiss canton of Grisons and the oldest settlement in Switzerland.
The village at 1450 m/4800 ft altitude is an all-year tourist destination, especially in winter, when its surrounding ski slopes attract many a visitor.

The local area is Romansh-speaking, that being the least used national language in Switzerland [which has four of them altogether].

The nearest international airport is that of Zurich, 150 km/90 mi, or two to three hours to the north. On the whole, if you got the time and can afford the trip, there is no difficulty whatsoever to get here, no matter by what means of transportation.
When in town, head to the lake and place yourself in its southwest corner. Have your camera ready!
Or, save yourself hassle and travel, and buy this understated snow landscape photo print.
"All well and good, but why would I?"
A very good question! Consider the following, for example.
Cool, and calm
There is a very calm feeling to the picture. There is no wind and apparently no sound at all, just snow falling on trees and the lake at rest, in silence.
The image doesn't ooze the chill it depicts. Quite the contrary, it conveys the warmth, in all meanings, inexplicably. This makes it such a great addition to a bedroom interior, always a difficult area for suitable décor.

Likewise, its monochrome appearance will make an advantage in "the less distractions, the better" kind of spaces—an office, a business reception or hallway, a library, a studio, or – again – a bedroom.

Streamlined design and plain, dark furniture will beautifully complement this piece.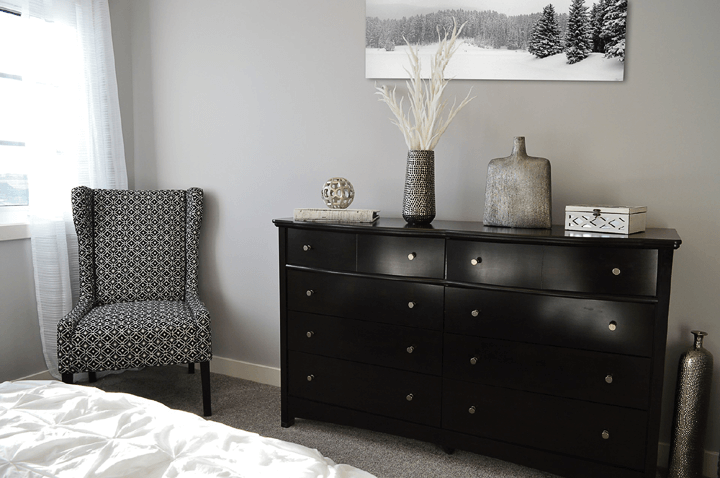 Snow-white • For something really cool around you
Highest quality possible
The specialised photo laboratory in charge of producing your print is, simply put, the best worldwide. With over 100 test victories and best-of titles from the international press under their belt, the artisans at work here are true masters of their trade.
If good is not good enough for you, this is the place where to go looking. Every print is hand-crafted to order, from the best materials available, and performed with skill and experience unmatched in the industry.
The prints are guaranteed to stay in form long enough for your children, and their children in turn, to enjoy them as much as you will.
All prints are produced up to the highest gallery presentation and archival standards, just as you would expect it.
You get the picture.
Sure value
What makes a value of an object?
Sure, the work and materials put into it matter big way—see above. However, they are but of superficial value. We still may want to have such luxuries around, but it would be a pity if they were the only things to surround us.
There is a simple explanation. We cannot relate to this kind of objects. They may remind us of their price, but money alone is a rare emotional stimulus.
A piece of art, on the other hand, creates an immediate reaction, one that is more than just "want-have". The impression art makes on us is then often able to evolve. An object of art can, and will grow on us.
Dare to try?
"Yes, I do!"
Wonderful! Just fill out the form below:
select your desired presentation, delivery country, and currency
provide some contact details
click on the Buy Now button!
You will be forwarded to PayPal where you complete your order. Remember:
You are covered by PayPal's Purchase Protection.
You can keep the print no matter what and still get reimbursed with my fee, if requested.
Your personal data will be only used for the purpose of communication with you, and to fulfil your order.
In short: Nothing can go wrong. I wish you all the best with your purchase!
"Winter solitude—
in a world of one colour
the sound of wind."

Matsuo Bashō
A personal choice
If you like the picture but would prefer it with a different print size and/or another presentation option, get it produced to your exact specifications!
Just head over to the general order form, and request a quote for your very personal edition of this snow landscape photo print.
And if you have a question, or a problem ordering, be sure to get in contact:
Tags: #amazingplaces #snowlandscapewinter #fillyourwalls
Other fine art landscape photography prints and books
The original interior image on this page is sourced from public domain via Pixabay.

Tell me what you think!
Is it useful 👍? Awful 👎? Leave a message! Your comments help making this site better (and give me a kick—one way or another).