Svartifoss, iconic Iceland waterfall on a large-format art print

Svartifoss waterfall large-format art print: click to see in full screen
Svartifoss, literally "the black waterfall", is one of the easily recognisable natural wonders in Iceland. It is far from being powerful, neither high nor wide enough, but you have to admit, its appearance is nothing short of spectacular.
Its dramatic backdrop of basalt columns makes it stand out as a truly unique sight.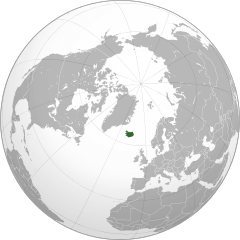 Image by Ninrouter, via Wikimedia Commons
Where in the world…
It is August, the peak tourist season in Iceland. Everybody travelling by makes a stop, for a good reason.

The view is stunning indeed. It looks as if a performance were taking place on the stage, with the waterfall being the only actor, in front of the heavy curtain and before the audience eyes.
If you look long enough—and you will—the rocks in the background start moving under your gaze along with falling water, flowing with it, creating the illusion that everything shifts around you while you are trying to stand still in dead centre of the world.
At the same time, the world seems looking back.
"The world, like a great iris of an even more gigantic eye, which has also just opened and stretched out to encompass everything, stared back at him."
Ray Bradbury, Dandelion Wine

Take a breath, and keep your balance.

See for yourself

The waterfall is to be found after a short, half-an-hour to forty-minutes walk along a signposted path from the parking lot off the Ring Road (National Road no. 1, then Road 998 to the Visitors' Centre, some 400 km / 250 mi from Reykjavík). 
This may be a bit too far away for a day bus tour from the capital.
The closest settlements of any significance are Kirkjubæjarklaustur and Höfn. The latter, situated further east, is a sizeable town with an airport and regular flights from Reykjavík. It should be possible, at least in theory, to fly in, rent a car, and drive back to the capital visiting all the sights along the south coast, which are many.
Or, choose buying this image of Svartifoss from the comfort of your home. I can assure you, you will need both patience and luck to avoid the masses when trying to capture it yourself.

"Why would I buy?"
Thank you for asking! There are several reasons you might be interested. Consider, for example, the following.
Not for everybody

On the face of it, the image is very straightforward. Simple, centre-focused composition—check. Lack of colour—check. Plain execution without artificial, "milky-way"-like rendering of falling water—check, check, and check.
The strong contrast, the bar-graph style, and the monochrome palette may be not to everyone's taste. But there is more to the view than meets the eye.

Look closer – or just a bit longer – and you will discover depth behind the flat surface. There is space stretching towards the background, which becomes obvious as soon as you move away from the image, just far enough to encompass the whole with a single glance.

"Simplicity is the ultimate sophistication."
Clare Boothe Luce, American author and politician

This is truly like looking into a mirror and discovering the fantastic world lying beyond it.

Dare to step through the looking-glass and see what you would find there?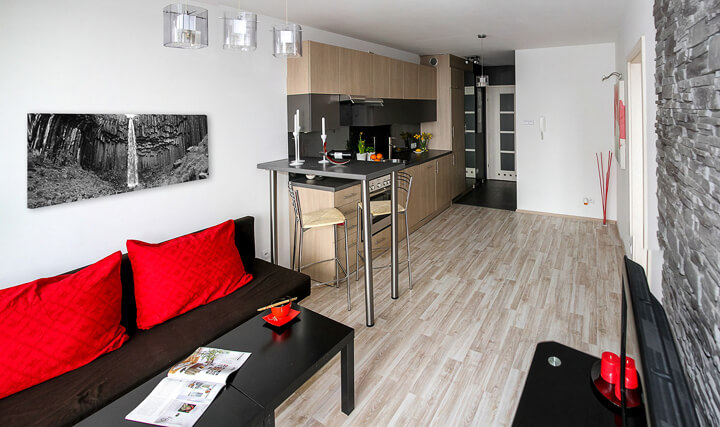 Little black waterfall • This rocks—Svartifoss is one of the most iconic waterfalls in Iceland


The striking image will fit into a modern interior, with rough stone or brick walls adding to its effect
Not for anywhere

Though versatile enough, like many a black-and-white image, this art print requires some consideration regarding its placement.

Perhaps it is my preconception, but I would avoid hanging it in a bedroom. To explain, I see the image as challenging and motivating rather than calming and soothing, and thus more fitting for a living room, a library, or an office environment.

The very contradiction between the enclosed space and the unstoppable movement creates a conflict in need of a resolution—and calls for a viewer prepared to dare.

But for a moment

This Svartifoss art print is crafted to defy time. Be sure of enjoying it your whole life, then passing it on to the next generation. Establish a family tradition for which you will stay remembered for years yet to come.

If there is something worth looking forward to, isn't that it?
Just for you
To own this art edition, just fill out the form below:

select your preferred presentation option, delivery country, and currency

provide a few contact details
click on the Buy Now button!

You will be forwarded to PayPal where you complete your order. Remember:

You are covered by PayPal's Purchase Protection.
Your address and payment data are securely stored on PayPal servers.
You can keep the print no matter what and still get reimbursed with my fee, if requested.
I wish you many wonderful moments with your purchase. There is no way you are going to regret it, promise!
As you wish

If you like the image but would prefer it with another print size or finish, get it produced to your exact specifications!

Just head over to the general order form with more choices, and request a quote for your very personal edition of this Svartifoss art print.

If you have another question, or a problem ordering, feel free to contact me:

Tags: #amazingplaces #waterfalls #iceland #fillyourwalls
In search of a perfect gift?
Consider Arctic Arc, a luxury photo book with 48 original panoramic photographs from Iceland and Greenland, seamlessly printed edge to edge over the fold!
Other fine art landscape photography prints and books
The original interior image on this page is sourced from public domain via Pixabay.
| | |
| --- | --- |
| Svartifoss waterfall art print | |
Tell me what you think!
Is it useful 👍? Awful 👎? Leave a message! Your comments help making this site better (and give me a kick—one way or another).