Diese Seite ist auch auf Deutsch verfügbar
"Beautiful, unique fine art landscape photography—guaranteed to make you happy"

Suffering empty walls around you? Craving for a change of scenery? In need of one striking piece for your home or office? — Get it delivered to you in just 2 weeks with your favorite fine art landscape photography from this site!

Professionally crafted to your specifications and optionally framed to your liking, these high quality photo prints will become a special treat in every setting.
Create your very personal fine art photography edition!

It's as easy as one, two, three. Pick your favorite image. Fill in the blank. Then Request a quote!

Step 1: Select your image
High quality photo prints guaranteed to make you happy

There are enough good reasons to order fine art landscape photography prints here!
Consider these, for example:

Fill the void: Complete the setting of your house. Add a perfect touch to that spot. Impress your visitors!
"Impress" above is an understatement. You will blow them away.
Feel the world: Let your eyes rest on something special. Dream of distant places. Peek beyond the horizon. Entice yourself!


Follow the view: Wake up to a breath of fresh air. Work under the gaze of high mountains. Walk for miles in your thoughts. Get inspired!

Besides, what you get is:

High quality made in Germany: All prints without exception are professionally crafted with gallery quality in a specialized lab in Germany.


Low production costs: Benefit from volume pricing rebates of up to 16%.


5-year guarantee: Get a 5-year manufacturer guarantee on all products.


75 years of color brilliance: Enjoy your favorite images year after year, all your life. All prints are produced to stay color-fast for 75 years. Prints on Kodak paper will last even longer – for a whole century.


Exact sizing: Choose your image dimensions as you need them – no hassle with fix formats.


Hanging system included: All framed prints are delivered ready to hang.


Worldwide delivery: Prints are securely packaged and delivered by UPS, DHL or TNT to many European countries, all of North America, Australia, New Zealand, South Africa, and several destinations in Asia and South America. Refer to the complete list in the form above.


Original panoramic format: Being wider than the cinema widescreen format, the images offer breathtaking viewing experience.


Large prints: The images will easily print at up to 1.5m (60") wide, and beyond.


Over 100 unique images: My photographs are available online only on this site.


Test prints available: Order with confidence—all prints on photographic paper (that is, all but canvas editions) can be provided for assessment in a test version, and all editions with the longer dimension over 120 cm (47¼") get one test print for free! (The cost of the most expensive test version you'd ordered, including shipping, will be deducted from the edition price when buying.)


Certificate of Authenticity: Every print comes with a signed Certificate of Authenticity.


12 months, no-questions-asked money-back guarantee: Changed your mind? No problem! You have one full year after delivery to think it over. Within this time, simply return your Certificate of Authenticity and get my fee back, no questions asked. Keep the print. If you like, buy another one at only half its cost (except delivery charges).

Can you refuse such an offer?
How to order
Use the form above for an informal inquiry about a print you are interested in. Asking does not constitute any obligation on your part – decide on the order later, only when you are happy with its conditions.

Here is a step-by-step guide to your desired fine art print:

Select an image. You can search for images from a particular destination and/or with a specific color scheme. Browse through filtered images by clicking on arrows. Click on the thumbnail to see an enlarged image, or use the slideshow button to open a gallery with all images from the visible set.

If you are interested in another image from my gallery not listed here, please do use the Contact form to get in touch about it!


Provide print width. You can use both centimeters and inches to identify the desired size of your print. Its height will be automatically calculated depending on actual dimensions of the original image.

Please note that these values refer to the production size of the print itself, without the frame selected in the next step.


Select a frame. Choose from different surface materials and frame layouts. Framed prints are delivered ready to hang, while loose prints are shipped rolled-up.


Provide a valid email address to send your requested quote to.

Your email will be used only for communication with you. It won't be shared with third parties under any circumstances. Please take some time to become familiar with our Privacy Policy.


Your home country is required to estimate delivery costs.


Anything else to ask? Attach a message to ask further questions, list several options, or provide additional information about your print.


Prove that you are human.


Click Request a quote! button. Remember, submitting the inquiry does not mean you are committing yourself yet – you are free to decide later.

What happens next?

Processing your inquiry shouldn't take more than 48 hours. Within this time you will receive an email with the requested quote for your selected print. The email will contain the exact cost of your print including production, delivery charges, and my author's fee.

If you are happy with the conditions and want to proceed with the order, follow the link provided within the message. You will be taken to a page on this site where you can review and complete your order details. From here, you will be forwarded to a secure PayPal server to make the payment. You will be asked to provide a delivery address on the payment page.

Test prints are available for all editions on photographic paper over 120 cm (47 in.) in length. One such print, with the highest price paid for it, will be deducted automatically from the edition's cost when buying.

After the transaction is confirmed, your print will go in production. This can take up to 10 days, depending on the selected print method and the chosen frame.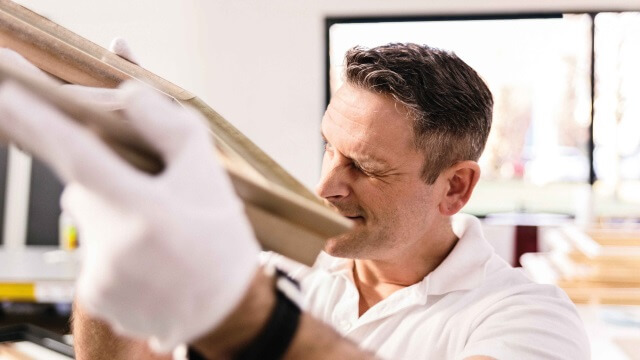 This is how your photography print is crafted

(2:54 min.)
Delivery will be carried out by UPS, DHL, or TNT. You will receive an email confirmation when your package ships, and will be able to track the shipment with a provided link. Delivery time depends on destination, but most places can be usually served within a week.

Please note that the print is produced to your individual specifications and as such is exempt from returns. Of course, it will be replaced at no additional cost when damaged in transit.
Before you ask...

If you are still unsure, find some answers below.

Can I trust you?

Yes, you can. Your payment with PayPal is covered by their Purchase Protection and secured in case of problems with delivery.

My country isn't listed in the inquiry form. Can I still order with you?

Unfortunately, shipping of your print is only possible to one of the countries named in the form. You can reside elsewhere, but you will need a valid delivery address in one of the specified countries. I am sorry.

What do the different frame options in the inquiry form mean?

You have several choices for both backing and frame of your print. The small images in the inquiry form let you preview the approximate look of the finished print. There are following possibilities:

Paper print: The image is projected on photographic paper from Fujifilm, Kodak or Ilford, or directly printed on paper from Hahnemühle. Before ordering, you will receive several offers for different paper options to choose from. A white margin is optionally provided for your own framing. The print will be delivered rolled-up.
Paper print under acrylic glass: A photographic paper print is mounted on aluminum Dibond and sealed under acrylic glass with matte finish. As with other paper prints, an optional white border for the image is available. Choose from 3 paper arts and 5 corner cuts.
Canvas: The image is applied onto canvas with 8-color pigment print process by Epson and mounted on a solid wood stretcher frame. Decide on one of 4 frame depths and 2 types of image wrapping along the edges. Or opt for a thermal sublimation textile print with 2 different finishes.
Aluminum backing: The image is transferred to photographic paper, mounted on aluminum and laminated with UV protective film. 5 paper types to choose from, including matte options.
Gallery frame: Add a classic solid wood frame to any of the above options. 2 frame widths and 6 wood types to choose from.
Solid wood ArtBox: Make your print stand out off the wall by setting it within a thin wood box in one of 4 possible colors.
Aluminum ArtBox: Lend a definitive noble look to your print. Frame it by compact and modern silver or black glazed aluminum and make it an immediate eye-catcher in your home or office.

How much will my print cost?

It very much depends on print size and execution you choose. However, expect to pay more than you would for your own images produced in a similar way.

Why is that? Well, it is rather simple. These images, as any work of art, are not mass products. Instead, each of them is individually crafted from best materials with the utmost attention to quality. With many framing and infinite sizing options to boot, it is pretty safe to assert that your print is a truly unique, one of a kind piece.

That said, here are current (November 2017) approximate prices you can expect to pay for a sample image printed at 100 x 36.5 cm (39⅓ x 14⅓ in.). Please note that these quotes don't include VAT applicable within the EU.


Execution

Description

Print price

Shipping to:
UK
US/Canada
Asia/AUS/NZ

Print on Ilford b&w matte paper, with 2 cm (.8 in.) white border

99 EUR

15.08 EUR
23.49 EUR
50.38 EUR

Textile print, mounted on a solid wood stretcher frame 20 mm (.8 in.) deep

229 EUR


16.76 EUR
50.38 EUR
147.02 EUR

Laminated print on Ilford b&w glossy paper, mounted on aluminum Dibond

399 EUR

16.76 EUR
50.38 EUR
147.02 EUR

Print on Ilford b&w glossy paper, mounted on aluminum Dibond and sealed under acrylic glass with matte finish

559 EUR


16.76 EUR
50.38 EUR
147.02 EUR

As above, framed in wood ArtBox 4 mm (⅙ in.) wide and 35 mm (1⅜ in.) deep

659 EUR

16.76 EUR
50.38 EUR
147.02 EUR

As above, framed in aluminum ArtBox 25 mm (1 in.) deep

685 EUR


16.76 EUR
50.38 EUR
147.02 EUR

As above, with 2 cm (.8 in.) white border in solid wood gallery frame 20 mm (.8 in.) wide and 30 mm (1.2 in.) deep

749 EUR


16.76 EUR
50.38 EUR
147.02 EUR

There is also a growing collection of editions with fix sizes and preconfigured presentation options which can be ordered immediately. You may want to check if one of these would appeal to you.

Do I have to pay sales tax (VAT)?

Prints delivered within the EU are subject to German VAT of 19%. This will be automatically included in your order total. Outside the EU, customs and other import fees may apply and have to be paid on delivery. My author's fee is exempt from all additional charges.

What currencies can I use to pay?

At this time, you can pay in euros or U.S. dollars.

Do I need a PayPal account to order with you?

Not necessarily. The option to pay with your credit or debit card is usually provided for those who do not have a PayPal account. However, due to regulations in some countries, you may require a PayPal account in your location. In this case, if you do not have one already, you will be able to create it during checkout. The account is free, as is using it for buying online.

My print was damaged in transit. What should I do?

If the outer packaging is visibly damaged on delivery, note it on the waybill and refuse the receipt. Get in contact to schedule a replacement.

If you discover a defect later, contact me immediately with the description and/or (better) photos to arrange for a replacement to get on its way. Keep the original packaging in case you need to return the print.

I don't like the received print. Can I return it?

You do not have to. If, for any reason, you are not satisfied with your print, you can keep it and get reimbursed with my fee, no questions asked. Additionally, you can order another image at only half its price plus shipping. I will only ask you to return the Certificate of Authenticity sent to you with the print.
Tags: #fineartlandscapephotography #fillyourwalls #getinspired
Dedicated pages for instant ordering

| | |
| --- | --- |
| Fine art landscape photography | |
What do you think?

Have you tried to make a request, search for and browse through the images? Was it simple? Have you missed anything? How can I make it better?

Tell me! I really appreciate your comments, a big Thank You for them in advance!