Autumn

: Colourful Greenland photo print in large format


Colourful, large Greenland photo print: click to see in full screen
This breathtaking Greenland photo print is for those who value the rare and the unusual, who prefer following their own trails, and keep venturing off the beaten track.

Greenland is hardly one of the fashionable must-do destinations, nor is it full of iconic natural features. It is remote and cold, that for sure, but its light is truly magic, and its barren landscape is so captivating and fragile at the same time that taking it in both delights and hurts.

This is a different, pristine and primeval, world of its own, where the nature is still a temple, not a workshop, and the man is only a guest, not the master. The life on the island is limited to the thin coastline, but the sights are nothing less than stunning, and yes, you have to sense the light here with your own eyes—it's indescribable.

The picture is from around noon on the second to last day in August, a Sunday, if this would make any difference, on a holiday all days are like Sunday, this far in the wilderness anyway.

The summer is coming to an end, or is over, its fast decay shows everywhere, you can feel it, see the explosion of autumn colours, all those warm reds and browns, how ironic, hear the ice covering puddles in low places, smell frost in blue shadows and warmth leaving, rising from the ground in the sun, its rays not powerful anymore, golden ghosts of their former selves, faint memories of the dwindling season.

J.K. Rowling, Harry Potter and the Deathly Hallows

"Autumn seemed to arrive suddenly that year. The morning of the first September was crisp and golden as an apple." "It looked like the world was covered in a cobbler crust of brown sugar and cinnamon."

Sarah Addison Allen, First Frost

I have been travelling for three weeks now, first in Iceland, in and around its Highlands, since five days in Greenland, this is furthest away from it all, the last anchorage before heading back, on a hike to the end of the fjord where two glaciers flow and descend into it, for ages before like for ages yet to come, indifferent to our presence, as if we were not here, as if we wouldn't exist at all.
The glaciers are still out of sight, you can barely make out the hillock around which they come down, it seems deceivingly close, behind spreads the inland ice, the white, vast void, the abyss turned sideways, ten miles from where you stand, you look in its direction, towards the edge of the world, over the land holding its breath for a short moment, in transition between summer and winter, do not disturb.
On your way back to the ship you will spot musk oxen, from afar.
See for yourself
Where in the world…


Greenland with Iceland and Jan Mayen
The location is tucked against the far western end of the largest fjord system in the world, which is Scoresby Sound in East Greenland. The body of water reaches deep inland and branches out into several fjords like a giant tree.

The Greenlandic name is Kangertittivaq.
The only settlement in the vicinity is Ittoqqortoormiit, pronounce it-oh-core-tore-meet, "the big houses", situated near the entrance to the fjord on its northern shore. Home to 375 people in 2017, this is one of the most isolated inhabited places on the planet—the next town is 800 km (500 mi) away down south.

The only feasible way to get here is aboard a ship. Even then, the chances are scarce. The best opportunity would be booking a berth on one of the ketches cruising around the largest island in the fjord, Milne Land, from July to early September. The tours take eight days and include charter flights from and to Reykjavík in Iceland. Unfortunately, they get booked up very soon after being announced, sometimes as early as ten months in advance. Lately, complete departures sell for charter and can be booked with their respective operators, if you are able to track those down.

Bigger ships sometimes visit the fjords en route from Svalbard to Iceland or vice versa.

In any case, this Greenland photo print will come at a fraction of the cost—and without the need to leave the home, too.
"Great, but why would I buy?"
Thank you for asking! If you like the picture, try out the following thoughts, for example…
Joys of discovery
Even if you knew nothing about the picture, there is quite a lot to its merit at a glance. The print is an invitation to discovery.
Besides its unusual colour mix with both warm and cool tones equally present and harmoniously complementing each other, the photograph is an exercise in balance on many other levels.

The composition is simple and decidedly unpretentious. What you see is what you get, nothing is hidden or makes you puzzled. And still, this simplicity is not trivial, let alone dull.
The landscape beams with calm and surprises with fine details—scattered icebergs, subtle reflections, thin clouds—if you take your time to look closer.

Be invited to do it—and dream.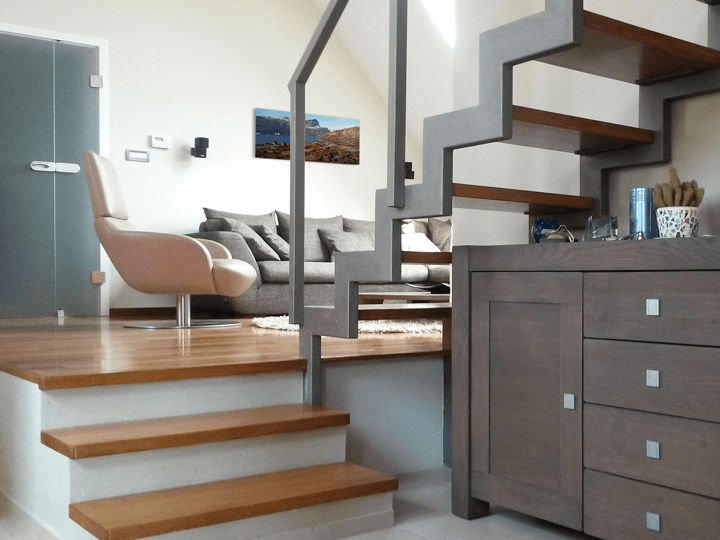 Autumn • For dreamers and doers alike


The print would look terrific in interiors with warm, earthy colours
Of highest quality

Apart from its inner virtues, the print's technical features can satisfy on their own, too. Take the signature panoramic format, for instance.

Its size allows the image to print easily at dimensions and with quality unthinkable of most digital photographs. You do not see many photo prints of over 2 m/6.5 ft very often.

If you need your print this big, be sure to ask about a personal edition.
In the same vein, the attention and the care your print receives during production are beyond all doubt. You are guaranteed to get the utmost quality from the best studio/laboratory in the world.
Take my word for it.
Line of reasoning

There is no pressing reason to place an art print, or any other piece of art for that matter, in your house.

You will know when the reason arises, when the time is right and you are ready. What would this reason be?

A wish to have something beautiful at hand, at home or in the office? Some inspiration for your plans and ideas? Some luxury for all to admire? Some memories to leave to your children for years to enjoy?

If the time is right and you are ready, a reason will be easy to find, or several of them at once.

Just try and do it.

"Anything that excites me, for any reason, I will photograph; not searching for unusual subject matter but making the commonplace unusual, nor indulging in extraordinary technique to attract attention."
Edward Weston, The Flame of Recognition

"I know I want it!"
Fantastic! Just fill out the form below:
select your desired presentation option, delivery country, and currency
provide some contact details
click on the Buy Now button!
You will be forwarded to PayPal where you complete your order. Remember:
You are covered by PayPal's Purchase Protection.
You can keep the print no matter what and still get reimbursed with my fee, if requested.
Your personal data will be solely used for the purpose of communication with you, and to fulfil your order.
In short: You cannot go wrong. I wish you a long and happy time with your purchase!
A personal view
If you like the picture but would prefer it with a different print size and/or another mount or frame, get it produced to your exact specifications!
Just head over to the general order form, and request a quote for your very personal edition of this Greenland photo print.
And if you have a question, or a problem ordering, be sure to get in contact:
Tags: #amazingplaces #greenland #fillyourwalls
In search of a perfect gift?
Consider Arctic Arc, a luxury photo book with 48 original panoramic photographs from Iceland and Greenland, seamlessly printed edge to edge over the fold!
Other fine art landscape photography prints and books
The original interior image on this page is sourced from public domain via Pixabay.

Tell me what you think!
Is it useful 👍? Awful 👎? Leave a message! Your comments help making this site better (and give me a kick—one way or another).