Beautiful sunrise image art print—for you to own


Spectacular sunrise image: click to see in full screen
Take delight in unique and exclusive large art prints, like the one of this stunning sunrise image!
Savour the view and follow it on a journey to Saglek Fjord within the Torngat Mountains National Park in Labrador, Canada.
It is morning in early September. The chill in the air foretells a close winter, and there is a thin ice layer building up on the water. The ice is going to disappear later in the day, but not for long, no doubt about that.

You can try to imagine how the landscape would change in the next few days, how it would look a mere weeks later, but you cannot be sure, there is no eyewitness account, this is a land of summer, and winter is coming, soon.

Enjoy the instant.
Relive the moment

The park is a pretty remote destination—but you would expect it in Canada. Its name comes from the Inuktitut word meaning "place of spirits".

Your best bet for a visit is joining a cruise ship on a trip along the northern coast of Labrador. Tours which call at the park usually start in St. John's or Quebec City and proceed to Iqaluit or Kangerlussuaq in Greenland, or follow this course in the opposite direction.

Another possibility would be booking a programme with Torngat Mountains Base Camp and Research Station, located just outside the southern park boundary. The facility operates weekly charter flights from Happy Valley-Goose Bay to the nearby Saglek Airport during the short season, end of July through end of August.

A much easier – and more affordable – way is treating yourself to a fine art print of this sunrise image!

"Why should I buy?"
Asking yourself this same question? Glad you are! Here are a few reasons to help you with the answer.
For the joy of it
This is a magnificent sunrise. There is much to like in the image, too.
Its simple composition and symmetry of reflections make for a great balance. Its unusual format and the sheer size add up to an immediate eye-catching effect, further underlined by the bold colours.
As a whole, this striking piece will easily fit into a modern living room or bedroom interior, and even a creative office environment. Once in place—a hanging system is included with all mounted options—it will become a breath of fresh air in your surroundings, a feast for the eyes, an inspiration, and a promise.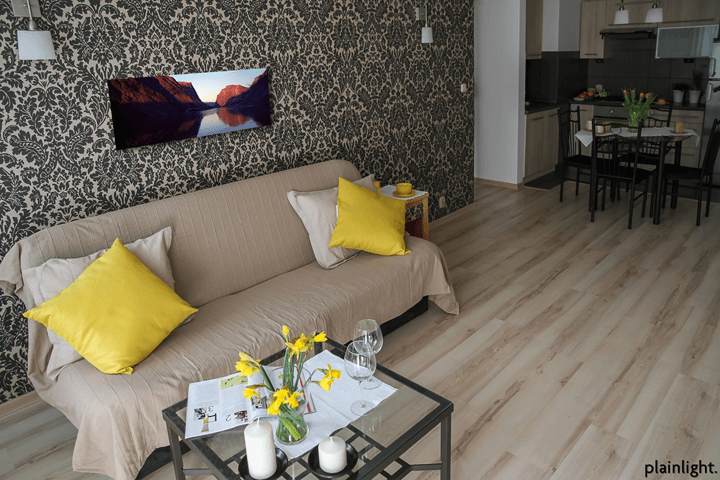 Good morning • It sure will look even better in your home


Ignore the furniture—it is not included
For years to come

Handcrafted with utmost attention to detail, this print is manufactured to stand the test of time. It is guaranteed to stay colourfast for a century, no less.
You will be able to enjoy it your whole life and then pass it to your children, establishing a family tradition and building a unique heritage for which new generations will love and remember you.
For happy returns
If you think this art edition is costly, look at it this way: it is not cheap. See it as an investment.
I cannot guarantee that you will make a fortune from it. What I do promise is, the later you buy, the more it will cost. Buying today means saving tomorrow, and saving even more the day after that.
See it as a guarantee for your investment.
"I want it now!"
Great! Just fill out the form below:

select your preferred presentation option, delivery country, and currency

provide a few contact details
click on the Buy Now button!

You will be forwarded to PayPal where you complete your order. Remember:

You are covered by PayPal's Purchase Protection.
Your address and payment data are securely stored on PayPal servers.
You can keep the print no matter what and still get reimbursed with my fee, if requested.
In short: You cannot go wrong. I wish you a long and good time with your purchase!
As you wish

If you like the image but would prefer it with another print size or finish, get it produced to your exact specifications!

Just head over to the general order form with more choices, and request a quote for your very personal art print of this sunrise image.

If you have another question, or a problem ordering, feel free to contact me:

Tags: #amazingplaces #beautifulsunrise #fillyourwalls
In search of a perfect gift?
Consider Northern Light, a luxury photo book with 48 original panoramic photographs from Norway, Svalbard and Canadian Arctic, seamlessly printed edge to edge over the fold!
Other fine art landscape photography prints and books
The original interior image on this page is sourced from public domain via Pixabay.
| | |
| --- | --- |
| Sunrise image print for sale | |
Tell me what you think!
Is it useful 👍? Awful 👎? Leave a message! Your comments help making this site better (and give me a kick—one way or another).