Your treasure chest of landscape photography art
This site is about landscape photography.
You may want to rotate your phone in order to improve your browsing experience on this site.

If you are looking for an original way to embellish your home or office, congratulations, you have found the right place!

With unique, large-format photography prints and luxury coffee table photo books from this site, you can make your dreams come true on the spot.

Ditto if you want
… assistance in taking better pictures,
… information and inspiration,

… new themes and destinations,

… or just some spectacular views from around the world.

Welcome to plainlight.
Glad you are here!
Life is not about how far you travel, it is about what you discover…
From an advertisement
Use these pages as your map and compass to everything above, and more!

Come and find within:
Ready to start your discovery?
Why landscape photography?
You can find and see the beauty everywhere, but the beauty of nature is the most immediate one. It is also the most universal if not always the most obvious.
I like to travel, and I like to share my travel stories. I try to tell these stories through my pictures and show the beauty I see to those who would look.
Follow the link to learn more about me.
Slow photography
The term has been around since early 2010s, but not because it was unknown before, just the opposite.

Photography has always been slow, from the very beginning up to the recent past, when it hugely accelerated and massively changed, forever. The shift started as technical at first but evolved affecting our very understanding of the trade, the way we think and feel about it, and lastly, how we go about practising it.

Digital made photography accessible to everyone, made it possible to work fast and cheap, and led in the end to the explosion of images being taken every moment, everywhere, for any reason—for no reason at all.

Photography has become fast by custom, by habit, and eventually by definition. This called for a new name to the old tradition, hence "slow photography".

I think the name is misleading. I photograph slow because my camera uses film, has manual focus and no zoom lens—I don't have a choice.

On the other hand, this is regardless. I would still give a good thought before pressing the shutter.
Digital photography and slow photography are not mutually exclusive. In particular, landscape photography and slow photography are a natural match, no matter what medium is in place.

As a landscape photographer, you are in a favourable position. Your subject is not going to vanish within seconds. Relax, take your time, and switch your camera's continuous mode off, for a change.

"Adopt the pace of nature: her secret is patience."
Ralph Waldo Emerson
Size does matter

In case of photography prints, most definitely.

My workflow results in panoramic images about 10,000px wide—or high, if it's an occasional waterfall or lighthouse.

Framed prints from them are available at up to 270cm/106". Maximum size for loose paper prints is 300cm/118". And most will look good even that big!

In any case, you can order them at exact dimensions you need, with your choice of frame, mount, and photographic paper.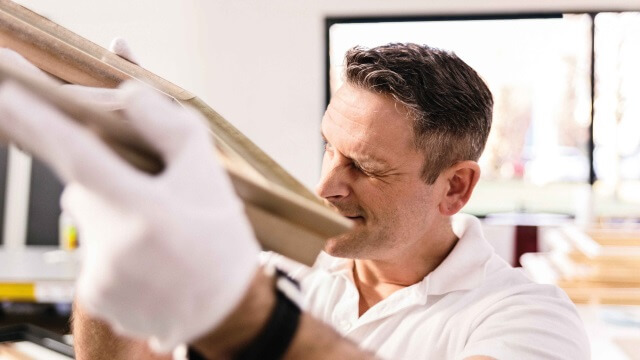 See how your print will be crafted (2:54 min.)
How others see my work
Here is some feedback about my recent photographs:

Fabulous photos… Wow.
Fascinating to see the very beautiful photos you and your camera have produced.
…an exceptional slideshow…. Amazing pictures.
…beautiful, thoughtful, brooding photos.
What a wonderful folio of panoramic photos…
These are wonderful… I've never before seen a landscape more suited to black and white photos, and you captured the light perfectly.
The images are great. Some have a real dramatic feel to them, really, great work.
❮
❯
How can I help?

If you are a photographer aiming to take better images, find some advice here! If you are stuck, have a question, or seek an honest opinion — get the help you need.
If you by any chance are looking for fine art landscape photography, be sure to visit my online selection. Over 150 panoramic prints are available for order in your desired size and with several frame options to choose from. Come by and take a look! Just imagine one spanning a wall at your place...
Moving on together

Scroll through these pages and ask questions. There is also a growing series of articles on travel destinations in case you are running out of subjects for your own photography!

Don't hesitate to comment on topics from the site. Whether you agree or not – have your say about what you read here.

Beyond landscape photo art
What's next?
Jump in, and choose your favourite picture to greet you from the wall of your home!

Or, select one of preconfigured editions and exquisite coffee table photo books on their dedicated pages:

Visit some popular pages, or check the latest additions to the site further down. Get inspired!
Popular articles
If a digital picture has to be seen in the real world, printed on a real medium and displayed in a real showcase, its transition from RAW to real is better done in an old school image editor. Enter A…

If you got your own place on the Internet, helping your visitors find what they are looking for is a great way to engage them and keep them staying a bit longer. A custom site search can achieve just …

Aiming for better images? Think better lenses! This is your most important piece of gear, so you better get it sorted out. — Need some advice?
Follow plainlight. on Pinterest!
Aug 21, 22 02:08 PM

The latest entries in the ongoing series of stunning photo books open a fascinating world of tall ships at your fingertips. While independent yacht sailing is out of reach for many of us, both physica…

Aug 19, 22 04:37 PM

The Rock

is the latest addition to the ever-growing collection of exquisite coffee table photo books featuring my pictures. It truly deserves its own page, though, for several reasons. It is the first…

Sep 27, 20 08:22 PM

These new additions to the popular series of photo books will lead you to destinations so wild and remote that only few people manage — or care — to visit them. Pictures you are about to discover are…
Tags: #fineartlandscapephotography #plainlight #getinspired