At heel: Picture of iceberg fine art photography print
"Sublime, high-contrast picture of an iceberg — click to see in full screen"
"Iceberg!"

The shout emerges on the bow. This makes me wonder how the folks on the top deck managed to miss the cause. The place, like the crow's nest of yore, seems always occupied, I never saw it unattended, certainly not in broad daylight and clear weather.

I understand when I get to see the iceberg. It is too small. It looks nowhere near menacing, it seems harmless, and it is gorgeous. The dark, ornamented cliff behind and above makes it glow, and their both, the iceberg's and the rock's, reflections in the perfectly calm sound round off the scene to a breathtaking whole.
The small bits in its trail are just like dots on the i, the icing on the cake, quite literally.

I almost forget to take the picture.
"I go out into the world with my camera and come across something that excites me emotionally, spiritually or aesthetically. I see the image in my mind's eye. I make the photograph and print it as the equivalent of what I saw and felt."
Alfred Stieglitz, American photographer and art promoter

Look close. This doesn't seem true, not at first glance and not at second. It appears set up, staged, painted. Imagined.

Unreal.
Iceberg on a plate, yay, against a backdrop slightly resembling its own form, kind of shadow-like but very different, amazing.
The narrow frame creates tension and suspense about what may lie outside, you are curious and thrilled, the picture raises questions and leaves them unanswered, but in the end, the sensation is that of astonishment and beauty, without a doubt.
Picture this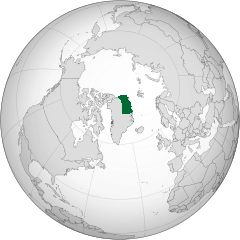 Northeast Greenland NP on the globe
Where in the world, on a large scale…


Greenland with Iceland and Jan Mayen
I met this iceberg in the Antarctic Sound, a narrow strait between Ymer Island and Greenland mainland. The place is at 73° northern latitude, farther north than North Cape in Norway, Wrangel Island in Russia, Point Barrow in Alaska, and Pond Inlet in Canada.

The location is within the Northeast Greenland National Park, the largest and the northernmost in the world. It is also one of the remotest ones.

The only settlements within its boundaries are the Sirius Dog Sled Patrol headquarters in Daneborg, permanent population of 12, a weather station in Danmarkshavn with eight staff, and the summer-only Zackenberg research station.

Apart from boarding a cruise ship, the park is off limits to visitors. Cruises are not that often, either. There were eight departures scheduled to visit Kaiser Franz Joseph Fjord in summer 2020, ice and weather conditions permitting.

The usual, two-week long itinerary commences in Spitsbergen and proceeds to Iceland following the Greenland coast and venturing into its fjords along the way. Travelling in the opposite direction is sometimes possible as well.

An interesting if somewhat smaller-scale option combines visits into two fjord systems of Scoresby Sund and Kaiser Franz Joseph Fjord out of Constable Point, flying in from Reykjavík. While shorter in time and limited in scope, the expedition is worth attempting as well.
These adventures come costly, though, and require some physical ability from their participants to enjoy in full. Landings take place by zodiacs, small rubber boats capable of bringing their passengers close to the shore. Be prepared to use narrow staircases when leaving the ship, and to step in the water when reaching your destination.
"Great, but what's in it for me?"
Well, try this out, for example…
What you see: A stunning scene

This is a very simple display, restrained, minimalist and straightforward. Or is it?

The picture is full of opposites, some more prominent, others rather subtle. The reflection is almost perfect — but only just. The cool white of the iceberg is contrasted by the warm, earthy tones of the background. The latter's intricate pattern in its turn is offset by the plain, sober surface of the iceberg.
The differences between fore- and background are countless, and you can spot new ones every time your look wanders back and forth between the two.
On the whole, the scene pictured is so versatile that it will easily adjust to your mood changes, various interior settings, and different lighting conditions.
"It changed its color and shape and expression according to time and place and weather. It aroused a deep sadness …, and at the same time it brought … peace and comfort."

Haruki Murakami, The Wind-Up Bird Chronicle

Be invited to feel the same — or something completely different!
At heel • Opposites attract
If you need the print this big, ask for a custom edition — it is perfectly possible!
What you get: The utmost quality

The amount of work invested in the production of your print and the level of attention it will have received during the process are unprecedented in the industry.

This is what happens after you order:

The picture file gets double-checked for imperfections, then manually sharpened to your desired print size.
The uploaded digital image is exposed on photographic paper, just like it was usual in the film era, or ink-printed on smooth and shiny canvas fabric.
The canvas is stretched over a wooden frame, the paper print is adhered to the backing and sealed under foil or acrylic, then framed to your liking, all by hand.
What you get in the end is second to none, online and elsewhere:

the signature, unique panoramic print format certainly to be noticed by anybody looking

unrivaled craftsmanship and quality from the world-best photography lab
the 75-year-guarantee on your print's colours

fitting for easy wall fixing included with all mounted prints
the unconditional, no-questions-asked money-back guarantee on author's fee for twelve full months after delivery (and yes, you can keep the print all the same)
Take my word for it.
What you are in for: Permanent discovery

Sometimes I get told that my pictures, however beautiful, were about my personal experiences and, as such, wouldn't mean much to the uninvolved.

This might be true to an extent, as it is with any artwork, for that matter. The simple answer is, there is no one meaning — it is always in the eye of the beholder. Those who look will find their own meaning, draw their own emotions, form their own thoughts.
"… why can photographs of unknown subjects move us? … Apart from the event photographed, apart from the lucidity of the idea, we are moved by the photograph's fulfilment of an expectation which is intrinsic to the will to look."

John Berger, Another Way of Telling

Be sure to look and feel, to raise and check your expectations, to probe your emotions, to make your discoveries. To find your meaning.

"I am convinced!"
Glad you are! Just fill out the form below:
select your desired finish, delivery country, and preferred currency
provide your contact details
click the Buy Now button!
You will be forwarded to PayPal where you complete your order. Remember:
Your personal data will be solely used for the purpose of communication with you, and to fulfil your order.
You are covered by PayPal's Purchase Protection.
You can keep the print no matter what and still get reimbursed with my fee, if not completely satisfied.
In short: Your order is perfectly safe. Here's to many happy hours with your purchase!
Make it personal!

If you like the picture but would prefer the print with a different size and/or another mount or frame, get it custom-made to your specifications!
Follow the link to the general order form and request a quote for a tailor-made edition of this iceberg picture print.
If you have a question or encounter a problem ordering, be sure to get in contact:
Not convinced? Not sure? Not getting enough? — Try something else!
If you have something else in mind, I have something else to offer — more fine iceberg pictures. Many more, in fact.

Coming from polar regions between Svalbard and Antarctica, they feature all possible shapes and sizes, groups and loners, wandering and stranded, in colour and in black and white…

Browse through all iceberg prints and choose your favourite for a very special, high quality fine art edition. Follow the link and ask for a quote, without any obligation on your part!

"I don't want to be buried in the ground… What I would love is to have my body dropped where you have those big icebergs and the water is so cold and pure…"

Jean-Claude Van Damme

Tags: #amazingplaces #icebergpictures #fillyourwalls
In search of a perfect gift?
Consider Arctic Arc, a luxury photo book with 48 original panoramic photographs from Iceland and Greenland, seamlessly printed edge to edge over the fold!
Other fine art landscape photography prints and books
The original interior image on this page is sourced from public domain via Pixabay.

| | |
| --- | --- |
| Iceberg reflection photo print | |
Tell me what you think!
Is it useful 👍? Awful 👎? Leave a message! Your comments help making this site better (and give me a kick—one way or another).