In your face: Exciting city panorama fine art photo print


Surprising panorama cityscape on a large-format photo print: click to see in full screen
Often enough, an unusual take on a common matter comes surprisingly refreshing. This city panorama is so different from ubiquitous sweeping pictures made from high above the ground, that it needs some time to "get" it.
What is really startling, though, is your immediate wish to take this—your—time. You want to make sense of it, to solve the puzzle, to turn the world back on its ground, to bring it in balance again. 
This is a cold morning in June, my fourth time at this very spot—the Old Town Bridge in Trondheim, Norway. I am trying to get the shot before the rain, which has been eagerly waiting for hours in the heavy clouds, comes down at last, bringing the inevitable to a sudden resolution.
I change lenses, switch to the short tele, look through the viewfinder, notice how tight and constrained the frame is, and see a gull rising from the water in my direction, with the sky below rippled by the wind, or is it the rain already, the sky has become a river, and houses are falling into it, or growing, and boats swim on it, or sink below the surface, like capsized submarines, "danger, danger", the bird seems safe at least, these are its elements, air and water, no matter which is which, it doesn't need a lifebelt, though there is one there, in red, just in case, now it starts raining for real, and the air turns to water, too.

Click.
"Pleasure is very seldom found where it is sought; our brightest blazes of gladness are commonly kindled by unexpected sparks."

Samuel Johnson, The Idler No 58

Catch the sight
Trondheim is the third-largest city in Norway, and as such pretty easy to reach. There is an international airport, a railway line from the country capital, and coastal ferry ships visiting daily for you to get here.
The city was founded in 997 AD as the first capital of Norway, and remained in this function through the Viking age until 1217. Today it is the country's main science and technology centre, with 30,000 students, and another 10,000 staff of the University Hospital comprising over one-fifth of its population.

The air link between Oslo, the present capital, and Trondheim is the tenth busiest in Europe. Apart from that, all-year international connections to and from the airport exist via Copenhagen and Amsterdam.
The train ride over the scenic Dovre Line, a worthwhile experience in its own right, can commence and end at the Oslo Gardermoen airport, making it possible to bypass the capital en route altogether.

Hurtigruten ships call at the Trondheim harbour heading in both directions. The stop on the northbound run in the morning of the third day is well suited for a city visit, especially from November through May, when the ship lies on the quay for six hours, leaving plenty of time to go ashore.
Markers on the city plan show both the ferry pier and the bridge for your orientation. Just be prepared and have your camera ready when you get there!
Or, save yourself the hassle of journeying, and buy this original cityscape photo print.
"Terrific, but what's in it for me?"
Fair enough! Look at it this way, for example…
Gripping and spellbinding

The picture offers a fascinating perspective of an upside-down, inverted world, intriguing by itself. Its main feature though is real, and thus contradicts, denies its surroundings, creates tension and suspense, and imparts a very uplifting feel to it.

The uncluttered, open composition with lots of negative space gives you a sense of a fresh breeze, a smell of the nearby sea, a taste of salt in the air, and conveys an overall impression of freedom.

Follow your eyes into this world and lose yourself in it, flow with the river turned sky to some distant target, together with clouds, to the sea and further still, beyond the horizon, where reality yields to dreams, slowly.

The print easily lends itself to decorating any room, creating a perfect illusion of an extra window with a magnificent view out. It will look equally mesmerizing with or without a frame.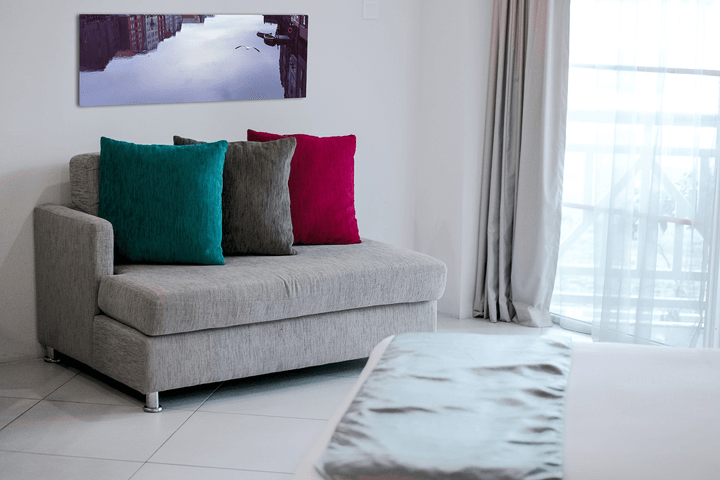 In your face • For a change in your everyday life
Of impeccable quality
Purchasing this photo print will get you the best quality money can buy, as simple as that.
No other vendor worldwide is able to provide the same level of experience, skill, and craftsmanship with regard to professional printmaking. You can take my word for it, or look at the unprecedented record of over 100 victories and best-of titles from the international press awarded to artisans in charge of your print.

On a sad note, the prints are guaranteed to outlive the first-time owners and carry on inspiring the next generations in the same way.
On the other hand, imagine how wonderful it would feel to let your children, and their children in turn, enjoy a true object of love yet for years to come!

Be invited.
Much to surprise

However one turns it, we do not need art. The truth is, we can live without it, get along just fine, and not even notice we are missing something.
When we do notice, and step in to intervene, we do it for our sake. But then, interestingly, the others notice, too.

You will be surprised and astonished by the impression a work of art, especially a large one, placed in your home or office will make on your guests and visitors. Be assured, noticed it will be, and talked about.

Of course, you should do it for yourself. The nice side effect of focused attention from everybody else will just occur all by itself.

Ready to try?
"Yes, I am!"
Great choice! Just fill out the form below:
select your desired presentation, delivery country, and currency
provide some contact details
click on the Buy Now button!
You will be forwarded to PayPal where you complete your order. Remember:
You are covered by PayPal's Purchase Protection.
You can keep the print no matter what and still get reimbursed with my fee, if requested.
Your personal data will be solely used for the purpose of communication with you, and to fulfil your order.
In short: Your order and your data are safe. I wish you long, happy hours with your purchase!
"I never see a ship sailing out of the channel, or a gull soaring over the sand-bar, without wishing I were on board the ship or had wings…"

L.M. Montgomery, Anne's House of Dreams

A different view
If you like the picture but would prefer it with a different print size and/or another presentation option, get it produced to your exact specifications!
Just head over to the general order form, and request a quote for your very personal edition of this city panorama photo print.
And if you have a question, or a problem ordering, be sure to get in contact:
Tags: #amazingplaces #panoramacityscape #fillyourwalls
In search of a perfect gift?
Consider Northern Light, a luxury photo book with 48 original panoramic photographs from Norway, Svalbard and Canadian Arctic, seamlessly printed edge to edge over the fold!
Other fine art landscape photography prints and books
The original interior image on this page is sourced from public domain via Pixabay.

| | |
| --- | --- |
| City panorama art photo print | |
Tell me what you think!
Is it useful 👍? Awful 👎? Leave a message! Your comments help making this site better (and give me a kick—one way or another).