Tall ship sailing first-hand — with lavish photo books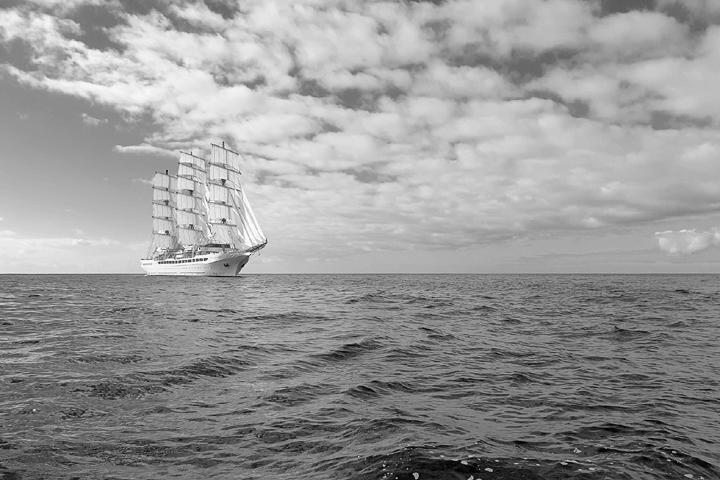 Hold your breath: from Book of Sails
The latest entries in the ongoing series of stunning photo books open a fascinating world of tall ships at your fingertips. The pictures in them were taken during a sailing cruise between the Canary Islands before Christmas.
While independent yacht sailing is out of reach for many of us, both physically and, well, financially, setting foot on a full-rigged tall ship is a different experience altogether.
It is quite possible that these vessels will disappear from our reality within one generation's lifespan. If you are not able to visit one of them on your own while they are still there, be sure to take a glance into one of these gorgeous photo books!
"On a day
when the wind is perfect,
the sail just needs to open and the world is full of beauty.
Today is such a day."

Rumi

What you get
The books on this page are the most extensive yet in the series. Each one contains 63 selected pictures.
As this is the case with my other photo books, every photograph here occupies an entire double-page spread, with pictures in portrait format filling up a single page, and landscape-oriented images taking advantage of the masterful lay-flat binding, so you can enjoy all of them without any obstructions.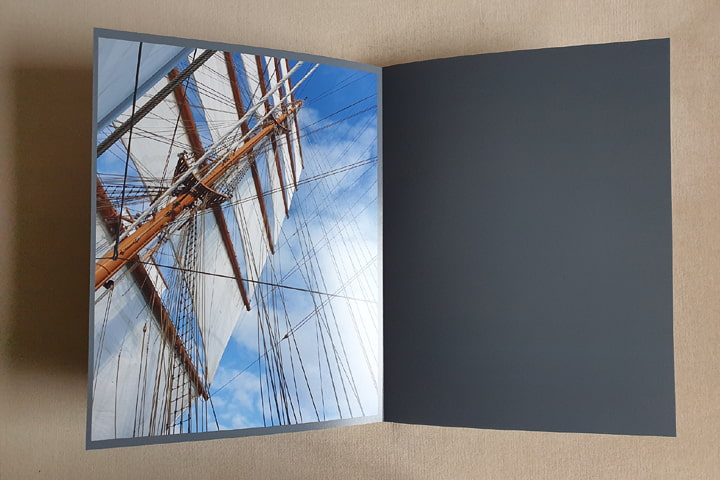 Sample spread from Coloured Sails
The inner pages are made of true, heavy matte photographic paper. It is able of reproducing fine details and a great tonal range with both colour and black-and-white pictures. Its smooth coating also averts distracting reflections and holds fingerprints at bay.

The hard cover wrapped up in signature eggshell fabric is very pleasing to touch.
Both books share the same understated layout common to other entries in a highly collectible series. With their portrait format, they are perfectly fit to slip readily onto your bookshelf.
The photographs in the books are the same for the most part. However, while Book of Sails includes their black-and-white versions, Coloured Sails features them rendered in colour. This is the reason for small differences in books' content, as every picture was edited and chosen based on its best possible visual appearance in the respective rendition. 
Picture motifs range from lines and forms of ropes and sails aboard the ship to landscapes from several islands on shore excursions. All in all, they make up a very enjoyable mix for sailing aficionados, passionate travellers, and photography connoisseurs alike. (NB: great photography composition examples throughout!) Different editions complement each other in a surprising way, and never feel redundant.
I would actually go so far as to recommend buying both versions, and comparing them side by side. If you think they are repetitive after all, try choosing one you like less, and make a gift of it to someone else 😉.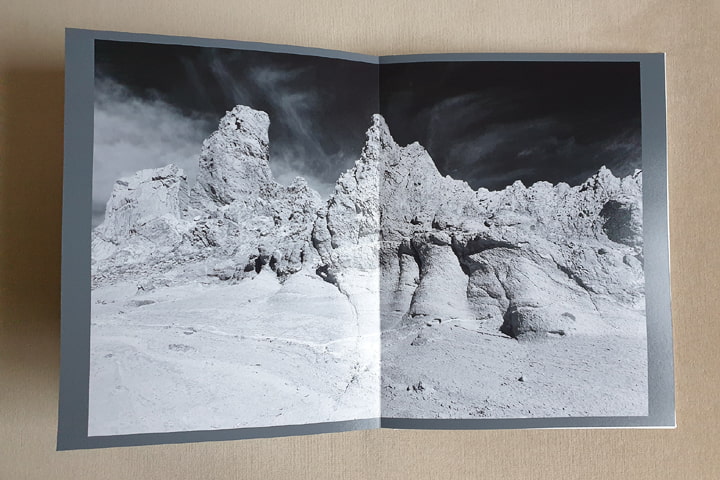 Quite simple: impeccable
Actual spread from Book of Sails
How to order

This is easy!
Scroll down to the order form. Select a photo book you would like to call your own — or order both editions at once and save in the process!
Choose the size of your photo book(s).

The "small" format is very handy but no less impressive for it.
The choice from the manufacturer's Professional Line is slightly larger than A4 and handmade from specially selected materials.
Refer to the chart below for a comparison of format options.
Relative dimensions of book formats, spread out
If you wish, choose a personal message to be printed in the top left corner on the first page of your photo book, just under the cover — if it is meant to be a gift, for example.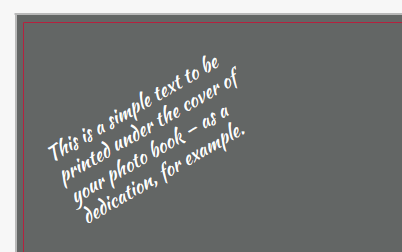 Add a personal touch to your photo book
Select delivery country for your order. Currently, 26 destinations in Europe can be served. Please consult the drop-down list in the order form.
And you are almost done! Just add your name and email address, tick off legal stuff requirements, and click the Buy Now button to finalize your order at PayPal.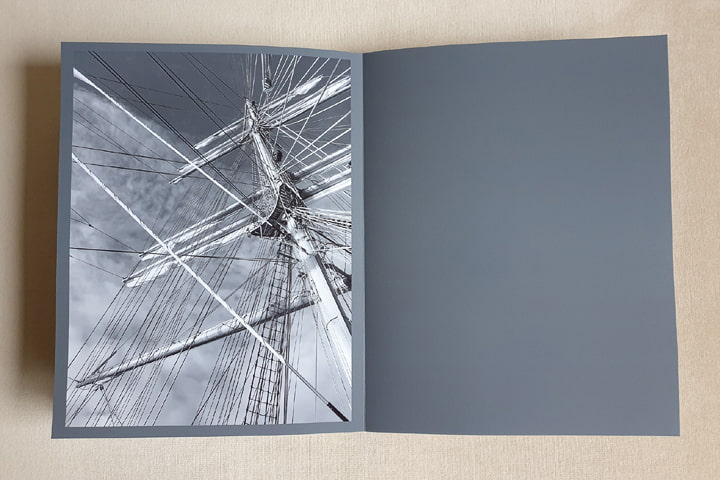 Original pictures in full-page tableaux throughout
Actual spread from Book of Sails
"Why would I buy?"
Fair enough!
If you don't mind a counter-question, does the following make sense for you?

You like to travel and are curious to discover new places and experiences.
You are sensitive to the environmental issues.
You value photography and fine art.
You love books and nice things in general.
If this sounds anything like you, you should definitely consider making a gift of one of these editions — either to yourself or someone close to you!
Besides, the books are produced by skillful professionals from high-quality materials and with a lot of attention paid to them.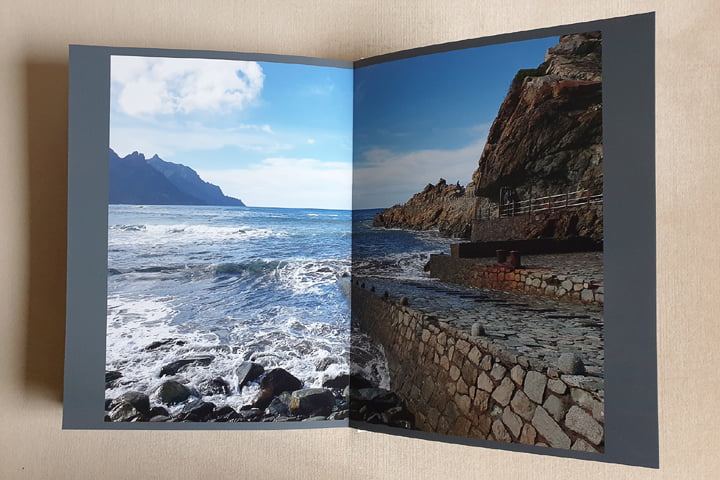 Luxury materials and unrivalled craftsmanship
Actual spread from Coloured Sails
They are truly the very best you could find in the industry world over.

"I am positive!"
Sure! Fill out the form below and click that Buy Now button.

You will be forwarded to PayPal to complete your order. Remember:

Your order is covered by PayPal's Purchase Protection.
Your payment data will be securely processed on the PayPal server.
Your photo book is guaranteed to be manufactured and delivered to your full satisfaction.
In short: You are not going to be disappointed. Order now and start enjoying your stunning photo book(s) short afterwards for years to come!
"We are tied to the ocean. And when we go back to the sea - whether it is to sail or to watch it - we are going back from whence we came."

John F. Kennedy

Questions you might ask
Can I trust you?

Yes, you can. Your payment with PayPal is covered by their Purchase Protection and secured in case of problems with delivery.

My country isn't listed in the order form. Can I still order with you?

The list in the order form is comprised of countries the printing service are able to deliver to directly. If you reside elsewhere, there are two possibilities. The easiest would be addressing your book(s) to friends or relatives in one of the "safe" countries. Otherwise, be sure to use the form below and contact me about the issue. Usually, I would just direct your order to my address, then send it your way by myself. (Additional shipping charges may apply in this case.)

What currencies can I use to pay?

You can pay in euros.

Is VAT included in my price?

The total price shown is the exact amount you will be asked to pay. This includes the German VAT on production costs, the shipping to your destination and a small author's fee.

Do I need a PayPal account to order?

Not necessarily. The option to pay with your credit or debit card is usually provided for those who do not have a PayPal account. However, due to regulations in some countries, you may require a PayPal account in your location. In this case, if you do not have one already, you will be able to create it during checkout. The account is free, as is using it for buying online.

How long will it take to produce my photo book?

Usually you should be able to receive your order within seven to ten working days. After your photo book ships you will receive a link to track its whereabouts while in transit.

My photo book has a production defect, or was damaged in transit. What can I do?

If you have a reason to complain about quality of your photo book, use the form below to describe the fault. I will ask you for some pictures to illustrate what you mean. Your photo book will then be replaced and resent to you at no additional cost, without need to return the defective original.
If you have another question or a problem ordering, don't hesitate to contact me:

Tags: #amazingplaces #enchantingnorth #photobooks #everydayluxury
Looking for unique wall art?
If you like pictures on this page, be sure to visit the online shop and browse prints of Arctic landscapes and those from Antarctica available there.
Ask for a quote on your favourites, made to order with exact dimensions and your choice of frame!
Fine art landscape photography prints and books
Tell me what you think!
Is it useful 👍? Awful 👎? Leave a message! Your comments help making this site better (and give me a kick—one way or another).