Cameras for landscape photography:
The best picks

Resuming our talk about photography gear, let's get down to your best camera options.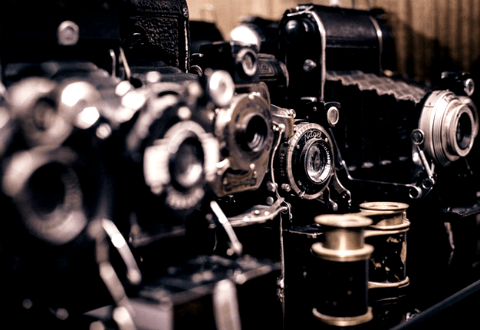 Those were the days...


Vintage cameras on display
You may want to rotate your phone in order to improve your browsing experience on this site.

NB: Time doesn't stand still, neither does progress. New products have appeared on the market since this article was first published. While an update is in preparation, be sure to check follow-up models for cameras presented below.
Quick links
"Conventional" cameras
There isn't much discussion on the topic, but very few digital camera buyers and users are aware of the fact that most digital sensors on the market only record as little as one third of the available light, and estimate the rest.
Read it again. Take your time to let it sink. Then ask a simple, logical question, How come?
A ubiquitous digital sensor records, in fact, a mixed monochrome version of an image. The light falling on the sensor is namely routed through a mosaic filter allowing only one colour component – red, green, or blue – to reach every photosite, that is, pixel cell behind it.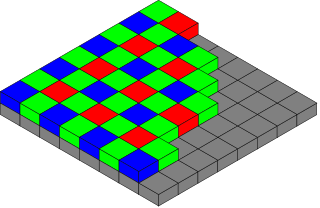 Bayer filter colour pattern on the pixel array of a camera sensor
Thus, each cell stores the exact intensity of one colour channel, and uses its surrounding cells to restore the information about own filtered-out portions. This results in a full-colour image whose content is for two-thirds ... an educated guess.
Fujifilm use a modified colour pattern in their X-series cameras. This is even more biased towards green light than the original: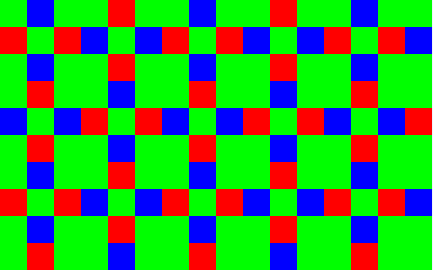 Fujifilm X-Trans sensor matrix
Recommended landscape photography cameras
That said, there is nothing wrong in using a mainstream camera. If nothing else, you are at least guaranteed to get firmware updates, compatible lenses and batteries for quite some time to come.

Chances are, though, you may be overwhelmed by the number of choices available in this category. (That's why they call it "mainstream", mind you.) If you don't have any brand preference yet, I would suggest to look closer at the following options:

"True-colour" digital cameras

And now for something completely different. Based on the same principle as colour film, Foveon X3 sensors combine three stacked photosensitive layers capable of recording all additive colours – red, green, and blue – for every pixel in the image. The sensors have been developed and exclusively used by Sigma Corporation. The resulting images, understandably, render the colour much more exactly and naturally.
On the other hand, the chips are noisier at high ISO settings and produce smaller images, albeit featuring more physical pixels (since every image pixel is built up from three sensor cells). Thus, the Sigma SD1 DSLR equipped with a 46MP big sensor has an actual resolution of roughly 15MP (4,704x3,136).
Still, the image quality at low ISO levels is unrivaled. The latest generation of Foveon X3 sensors, the Quattro series, include 4 times as many pixels in the blue layer as in any of the other two, effectively increasing the output size. The 29MP sensors produce images just short of 20MP big (5,424x3,616).
Sigma digital camera options
In February 2016, Sigma announced two new camera bodies built around the Quattro sensors sized in both APS-C and the bigger APS-H format, the latter sporting a crop factor of 1.3 and 6,192x4,128 image pixels. The new cameras will accommodate all modern lenses with the SA mount. Be sure to check the Impression section under the link above for some real-life test images.
For the time being, you have the following alternatives to try something truly unique and original in the camera photo equipment department:
Sigma SD1 Merrill. The bad news first. The camera rolled out in 2012. The sensor features 15MP effective pixels (i.e., this is how big your images will end up) but needs ages to write them down. The camera remains pretty much locked during this time. ISO levels beyond 800 are of no use. Autofocus with its 11 points is no match for modern cameras. Adobe Camera Raw doesn't support the camera's RAW format, so you are stuck with Sigma's own Photo Pro software which is … unorthodox, to put it mildly.

On the other hand, the image quality at low ISO is exceptional, with very fine detail and natural colours. If you think this outweighs camera's quirks, and you are prepared to overcome them—give it a try.

Buy from Amazon.com
Buy from Amazon.ca
Buy from Amazon.co.uk


Sigma dp0/dp1 Quattro. The two fixed-lens compact cameras are based on the APS-C Foveon X3 Quattro sensor with effective 19.5MP. They are equipped with full-frame equivalent 21mm f4 / 28mm f2.8 lenses. Both cameras share the same strikingly designed body and offer similar characteristics and performance. Much thought went into achieving a perfect balance between the sensor and its respective lens. An optional electronic viewfinder is available for the series, as are dedicated optical viewfinders for each camera.

The image quality at low ISO is second to none, while the autofocus is rudimentary, low-light capabilities are primitive, and there is no video whatsoever. The series also comprise two other cameras, dp2 and dp3, featuring 45mm and 75mm equivalent lenses, both f2.8. Do have a look at the interactive comparison in image quality hosted by DPReview.

The cameras are by no means pocketable. If size does matter to you, try hunting down a model from the previous generation, built upon a 15MP Merrill sensor.

Buy from Amazon.com
Buy from Amazon.ca
Buy from Amazon.co.uk

35mm film cameras
This is pretty easy. The only advanced conventional film camera still in production is Nikon's F6 SLR. I doubt they make any profit from it, and highly appreciate the effort. It's been available since 2004. Show me just one digital model with a comparable run, and we can start talking about how digital is superior in every way. Beware though. As one buyer put it on Amazon,
"Camera will not work with CompactFlash or other digital media cards.

You must buy a cartridge of tape, which allows for just 24 shots. No LCD screen for image playback. Extremely frustrated and returned item."
I do hope this was meant to be ironic.

Buy from Amazon.com
Buy from Amazon.ca
Amazon.co.uk lists the camera as discontinued by manufacturer, which isn't exactly inline with Nikon Europe's official presentation. Try to locate the camera elsewhere
In addition, numerous "fun" fixed-lens film cameras are available from brands like Holga and LOMO.

If you want to try your hand at a bare-bones film camera with some decent lenses existing for its mount, Nikon FM10 might be the answer. The camera is actually based on the CT-1 body from Cosina and in fact manufactured by the latter since 1995, no less. The mode of operation is all-manual except for some assistance with the light metering, if you care to insert optional batteries. If you can find it cheap, this is a great learning piece, not something to make your living from. Aim for the body-only version.

Search at Amazon.com
Search at Amazon.ca
Tags: #landscapephotography #photocameras #photogear
Other photography equipment
Following the thread about what is most important for landscape photography equipment, let's discuss some worthwhile options.
Ever wanted to try one? Read about your current options!
Everything you need to know when looking for a new camera lens, in one place: manufacturers, mounts, formats, types, and how to understand all those mystic lens labels.
Understand how to tell good digital camera lenses from the rest when reading their reviews.
The last article on camera lenses presents some fine choices for selected cameras.
Learn how to use most useful landscape photography filters!
One of the most striking photography filters available is hard to imitate and easy to master. Try it!
Unattributed images on this page are sourced from Wikimedia Commons.
| | |
| --- | --- |
| Cameras for landscape photography | |
Tell me what you think!
Is it useful 👍? Awful 👎? Leave a message! Your comments help make this site better (and give me a kick—one way or another).
Popular articles
If a digital picture has to be seen in the real world, printed on a real medium and displayed in a real showcase, its transition from RAW to real is better done in an old school image editor. Enter A…

If you got your own place on the Internet, helping your visitors find what they are looking for is a great way to engage them and keep them staying a bit longer. A custom site search can achieve just …

Aiming for better images? Think better lenses! This is your most important piece of gear, so you better get it sorted out. — Need some advice?