Ice edge: Antarctica travel guide
Too far away and too expensive to get to, Antarctica travel doesn't spring to mind as an immediate target for your next holiday. True, it is remote and does come at a price. But nowhere else in the world is it possible to meet wildlife as unaffected by human presence. The last continent, the great void, a world without man – it's a miracle and a nature lover's paradise.
You may want to rotate your phone in order to improve your browsing experience on this site.

Looking for unique wall art?
If you like pictures on this page, be sure to visit the online shop and browse prints of Antarctic landscapes available there.
Ask for a quote on your favourites, made to order with exact dimensions and your choice of frame!
Quick links
Where in the world...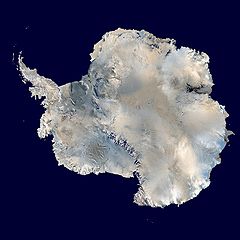 Antarctica


From NASA Blue Marble data set
Antarctica's place in the world is probably known to everyone since early school days. It's always been that white area barely visible without lifting the globe. One could mind, it were like an unpopular kid left behind when other continents pulled away towards the north.
With 14,000,000 km² (5,400,000 sq mi) including surrounding ice shelves, Antarctica is nearly twice the area of Australia. 98% of its territory is permanently covered by ice. The limit of the Antarctic region is a natural boundary in the Southern Ocean where cold waters flowing northwards away from the continent meet the warmer waters bound in the opposite direction. This line, or rather stripe 20 to 30 miles wide, is called the Antarctic Convergence. Beyond it lies the Subantarctic comprised of isolated islands situated south of 46°.
The mixing water masses of the Convergence create a unique zone of high marine productivity exceptionally reach in wildlife.

When to go
The southern summer from November to March is the only natural season for visiting. Even during this time the temperature will stay, well, temperate at best, rarely climbing above 5°C (40F) on the continent. Snow and strong winds are always a possibility. The Falkland and South Georgia Islands can get as warm as 15°C (60F) in the sun, though the highest monthly average for both destinations is just under 10°C (50F).

How to get there
Antarctica proper is off-limits for individual travellers. To set foot on the continent or its surrounding islands, including South Georgia, will require boarding a cruise ship or joining an organised expedition.

By air
Stanley's Mount Pleasant airport in the Falkland Islands (IATA code MNP), actually an RAF air base, is the nearest one with scheduled passenger flights. The airport is served by LAN Airlines with a weekly flight from Punta Arenas in Chile (IATA code PUQ). Civilians are also allowed to board two weekly services from RAF Brize Norton (IATA code BZZ) in Oxfordshire operated by AirTanker.

Charter flights to the airstrip at the Chilean Base Eduardo Frei on King George Island (IATA code TNM) are operated in season for passenger exchange between ship cruises commencing and ending in the South Shetland Islands, thus avoiding the necessity to cross the Drake Passage. The origin/destination of these flights is the international airport in Punta Arenas.

For the ultimate experience in the region, two fly-in tourist camps operate in season on the continent; refer to the respective section below for details.

At last, commercial flyovers of the Antarctic mainland in a chartered Boeing 747 are on offer from different Australian airports. A 12-hour flight is advertised to spend one third of the time above Antarctica. I'm not sure if this would be a worthwhile investment, though.

By sea
An up-close exploration of the region is possible from a cruise ship. The size definitely does matter here, namely the smaller the better. Many landing sites are only open to as little as 100 visitors ashore at a time, so usual cruise vessels with the equivalent of a small town's population aboard are unable to unload their passengers anywhere in the area. Of course, you could opt for a sail-by cruise, i.e. one entirely without landings, but I don't even want to start on this.
Ships with up to 200 passengers should be OK, allowing to have one half of the load ashore and the other one enjoying a Zodiac cruise at the same time, then switching accordingly. Since some landing sites are available for just 4 hours' stay at most, any capacity greater than 200 would make it from unnecessary complicated to outright impossible to get your time's worth.
Some providers operating in the region are listed in the link section at the end of the page.
Antarctica travel cruises
The vast majority of tours visiting Antarctica start and end in the Argentinian harbour of Ushuaia.
With over 55,000 inhabitants, the southernmost city in the world at 54°48´S is still 500 nautical miles away from the Antarctic Peninsula. Sailing to it across the Drake Passage will take over two days one way.

To avoid the crossing, which can be quite a stormy experience, some operators offer to replace one or both legs by a flight between Punta Arenas and the Chilean Base Eduardo Frei on King George Island in the South Shetlands. While flying might significantly reduce the time spent aboard the ship, delays in case of unfavourable weather conditions could put the whole voyage at risk. Your choice.

Major itineraries originating from Ushuaia include:
"Classic" tours take 11 to 13 days in total to visit the South Shetland Islands and the Antarctic Peninsula. These only leave 5 to 7 days to actually doing some exploration. Anything less than that isn't really worth bothering.
Up to 15 days in total are required to additionally cross the South Polar Circle or venture into the rarely visited Weddell Sea off the east coast of the Peninsula.
With 17 to 20 days under sail it is possible to take in the Falkland and South Georgia Islands. Including the Polar Circle or calling at the South Orkneys on top of this increases the cruise duration up to 23 days.
Two more days would allow to take a detour to the South Sandwich Islands which lie way off the beaten track even for region's standards.
A month-long half-circumnavigation of the continent across the Ross Sea to Bluff on the southern tip of New Zealand is arguably the most extraordinary option, and definitely the most expensive. Don't expect much Zodiacing around on this one, though – the occasional landings will be carried out by helicopter, and I am not sure if they will make most of your time aboard.
From the other side of the globe, it is possible to join a rare opportunity for exploration of Australian Subantarctic islands and the Ross Sea coast. These trips tend to take 4 to 5 weeks at a time, in part due to much longer distances to be covered. The starting point is Invercargill harbour in New Zealand.
What to expect
I would strongly recommend not to limit yourself to Antarctica proper but also include the Falkland and South Georgia Islands in your trip. The three regions are all stunning destinations on their own and offer enough unique "content" to justify visiting them separately. However, differences between them witnessed on one journey in the course of just a few weeks will most definitely add to your travel experience.
The most northerly and the most temperate of the three areas, the Falklands, is hilly country and home to some of the largest albatross colonies on the planet. Five penguin species dwell in the islands, and there are few other places on the planet where they can share the same picture frame with sheep. The main settlement, Stanley, lies as far south as London does in the north, and sports four pubs. British, of course.
Moving east and crossing the Antarctic Convergence en route to South Georgia changes the climate for the harsher and the terrain for the rougher. The island's mountains rise to almost 3,000 m (9,700 ft) and leave little space to coastal plains which still support some 400,000 king and 5,000,000 macaroni penguins. It is estimated that 350,000 elephant seals and 2,000,000 fur seals breed on the island. Abandoned whaling stations, a small museum and Sir Ernest Shackleton's last resting place give evidence to island's account in the history of Antarctic exploration.
Antarctica, at last, inhospitable and unwelcoming at first sight, boasts giant icebergs, pristine air, isolated scientific stations, and fearless wildlife blissfully ignorant of your presence.
What to pack
When packing, bear in mind that you are going to spend up to four hours at a time outside in rather cool weather. Dressing in layers is essential. A small backpack with extra clothes to put on and space for spare ones to put away will come in handy during the landings. It will also keep your camera safe from salty spray during Zodiac transfers. For these, waterproof pants are indispensable, as are rubber boots – but the latter will probably be provided on your ship, ask beforehand if in doubt.
Not to forget:
sunscreen and sunglasses
woollen hat
gloves or mittens, or both
enough memory cards, films, and camera batteries. When you think you're covered, go on and redouble on everything.
passport and air tickets
travel insurance and what to do in case of emergency.
Getting to the start
Ushuaia sports an international airport (IATA code USH) whose runway is long enough to receive aircraft as big as Boeing 747. The airport actually hosted the supersonic Concorde on two occasions. During the season it is pretty busy handling passengers of up to four cruise ships moored in city's harbour every day.
Ushuaia is well connected with both airports in Buenos Aires, the Argentinian capital and the obvious place to entry the country, by several daily flights on either Aerolíneas Argentinas or LAN Argentina.
Most visitors to Argentina land at Ministro Pistarini International Airport (IATA code EZE), 35 km (22 mi) away from the capital. The airport handles direct flights on Air Canada, Air France, Alitalia, American Airlines, British Airways, Delta, Emirates, Iberia, KLM, Lufthansa, and United, among others. Air New Zealand plan to start non-stop flights from Auckland in December 2015.
Strangely enough, many passengers are required to change airports for their connecting flight to Ushuaia starting from the domestic Aeroparque Jorge Newbery (IATA code AEP) close to city centre. Though spending some time, or even a night, in the capital en route to the ship is a worthwhile idea, transferring between the airports while at it is rather cumbersome and expensive.

When booking your tickets, try to get your domestic flight from the same airport where you happen to cross the border. Arriving in Argentina at Aeroparque is possible when flying on LAN via Santiago de Chile (IATA code SCL), or with TAM via São Paulo-Guarulhos in Brazil (IATA code GRU). The former is the usual route for Australians who'd use Quantas' or LAN Airlines' service from Sydney to Santiago.
When exchanging your home currency for Argentinian pesos, keep in mind that this is a one-way transaction. It isn't possible to exchange spare pesos back on your return home.
Ways to save
A cruise to Antarctica isn't exactly the cheapest vacation you can sign on. In addition, the longer the cruise the more expensive it is going to cost. Finally, flights to the embarkation point and back have to be paid for as well. Here's some advice on what you can do to spend less.
Join a loyalty program. Some cruise tour operators offer special discounts for returning travellers. You need to officially register before reclaiming a discount for your next trip. Conditions vary greatly.
Book with an agent. Travel agents receive a commission from the cruise company for every booking made through them. The commission is part of the tour price, so you pay it even when booking directly with the operator, in which case the latter just keeps it. However, when you book with an agent, especially repeatedly with the same agent, she might offer you some part of her commission back. Ask if this would be possible.

Book well in advance. Some companies offer early-bird discounts for a limited period of time after their new catalogue hits the shelves. For Antarctica cruises this could mean booking as early as 18 months prior to departure. Rewards for such a dedication differ greatly among the operators and sometimes depend on voyage and cabin category being booked. Usually you can save from 10% up to 30% of the asked price.

Book at special dates. If you don't want to commit yourself for a long period of time and are sure of enough free places still being available on your preferred departure, booking around Black Friday for the upcoming season with North American operators might prove to be a nifty idea.
Book at the last minute. If you have nerve, you may try to wait until the rest places on your desired trip get dumped. The strategy is a risky one but it can succeed for bigger ships and more expensive itineraries – smaller ships and more economically priced cruises tend to sell out rather quickly. However, the longer you wait the more you should expect to pay for flight tickets and extra hotel nights. If you got plenty of time, you might consider getting down to Ushuaia and waiting there for a ship leaving on your dream travel. Local agents specialise in selling rest places at very competitive prices. Knowing that you ended up paying just a third of the asked price can make your trip even more enjoyable.
If you prefer, here's the above at a glance:
In search of a perfect gift?
Consider South, a luxury photo book with 48 original panoramic photographs from Antarctica, South Georgia, South Shetland and Falkland Islands, seamlessly printed edge to edge over the fold!
Land-based Antarctica travel tours
Two companies operate land-based facilities in Antarctica. Antarctic Logistics & Expeditions (ALE) run the Union Glacier camp at 79°46´S in the southern Ellsworth Mountains, and fly to it from Punta Arenas in Chile. Four other stationary camps are available for their customers at different destinations in Antarctica. White Desert have their Whichaway camp set near the shore of Droning Maud Land, reaching to it out of Cape Town.
Both providers offer several itineraries of up to 12 days in length which may include visits by plane to the South Pole and/or to an emperor penguin colony at the south end of the Antarctic Peninsula. ALE also run skiing expeditions to the South Pole and climbs of Mt Vinson and Mt Sidley. White Desert have an economic option of a short single-day visit to the Wolf's Fang runway near its eponymous peak, also known as Ulvetanna, at 71°52' S, allowing to spend around four hours on the ground in its vicinity.

Refer to the link section below for more information.

Tags: #antarctica #travelguide #coolplaces
Useful links for your Antarctica travel

The list is meant to help you connect with Antarctica travel tour operators, get some ideas and maybe start to plan your own journey! External links will open in a new browser tab or window.

Antarctica pictures
Antarctica cruise companies
Camp operators in Antarctica
Other destinations

Some images used in the infographic are published under the CC0 license (public domain) and sourced from Pixabay.

Tell me what you think!
Is it useful 👍? Awful 👎? Leave a message! Your comments help make this site better (and give me a kick—one way or another).
Popular articles
If a digital picture has to be seen in the real world, printed on a real medium and displayed in a real showcase, its transition from RAW to real is better done in an old school image editor. Enter A…

If you got your own place on the Internet, helping your visitors find what they are looking for is a great way to engage them and keep them staying a bit longer. A custom site search can achieve just …

Aiming for better images? Think better lenses! This is your most important piece of gear, so you better get it sorted out. — Need some advice?