Below the icecap: Greenland travel guide
Greenland travel probably isn't on many people's minds. That's a pity, and a bliss. A pity for those who don't go, since they miss out on one of the last remaining frontiers, right at the door of North America. A bliss for those who do come and see the primal, unspoiled nature, tiny settlements between ice of the land and ice of the sea, and people living on the edge since the dawn of time.
It might be getting late, global warming and all, but there's still time to visit – now.
You may want to rotate your phone in order to improve your browsing experience on this site.

Looking for unique wall art?
If you like pictures on this page, be sure to visit the online shop and browse prints of Greenland landscapes available there.
Ask for a quote on your favourites, made to order with exact dimensions and your choice of frame!
Quick links
Where in the world...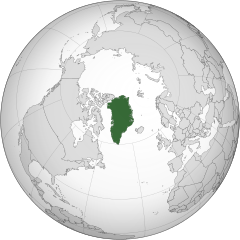 Greenland on the globe


Wikimedia Commons
The world's largest island expands over 2,166,086 km² (836,330 sq mi) between 59° and 83°N and 11° and 74°W. Its northernmost point, Cape Morris Jesup, is located just 708 km (442 mi) away from the North Pole. And Kaffeklubben Island, off the mainland and even more to the north, marks finally the farthest northern point of land known to man, 83°40´N.
Politically, Greenland is an autonomous region within the Kingdom of Denmark. Unlike its governing country, Greenland isn't part of the European Union and actually belongs to North America, both geographically and geologically. A fast glance at the globe will reveal the island as the biggest piece in the jigsaw puzzle of the Canadian Arctic Archipelago, if anything.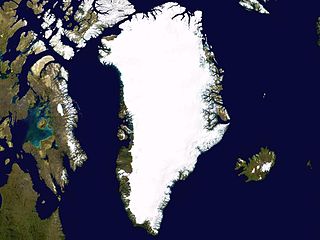 Greenland from space


NASA World Wind screenshot
First people arrived in Greenland indeed from Canada some 4,500 years ago and spread from the north down along both coasts. The eastern party stopped in the vicinity of today's Tasiilaq (Ammassalik) and became more and more isolated, developing over time own language, customs and rites.
The Europeans discovered the island towards the end of the 9th century AD. Some hundred years later, from 986 AD, Icelanders led by Erik the Red settled in South Greenland and stayed for 400 years. Then they just disappeared, possibly as a result of the climate dramatically cooling down.
Today Greenland is home to 57,000 people living in small communities scattered along the island's shoreline. The east coast is barely populated with only two groups of settlements 800 km (500 mi) apart. The Greenlandic capital, Nuuk (Danish Godthåb), has 16,000 inhabitants.
By contrast, almost 45% of the territory is occupied by the world's largest and most northerly national park. Being bigger than all but thirty countries in the world, the Northeast Greenland NP protects 972,000 km² (375,000 sq mi) of the rarely visited, mostly untouched tundra landscape.
How to plan
With the size of a small continent and total absence of roads outside of isolated settlements, travel in Greenland can become quite a challenge, both logistical and financial. Visiting several communities in course of one journey isn't impossible but not really recommended either, unless you
stay in the same area. The south, the Disko Bay area, and Ammassalik Island in East Greenland are your best bets for some wandering around
travel by sea, i.e. by boat or aboard a cruise ship.
Otherwise you are bound to fly, which is not only expensive but sometimes quite cumbersome as well, since very few airports in the country are linked by frequent direct flights. For example, the two eastern communities, Tasiilaq and Ittoqqortoormiit, are both better connected with Reykjavík in Iceland than with each other!

Concentrate on one area – you'll get so much more out of your visit. For another destination better come some other time.
What to do and when to go
As outlined above, planning a journey to Greenland should take a little more consideration than your normal holiday. It is better to start with asking yourself what you'd like to do and go from there. The list of possible activities is quite long and probably best summed up as follows: if it's something you can do outdoors, you'd be able to do it in Greenland. There are some caveats involved, though: it might turn out more difficult to organise, and cost a good deal more than elsewhere.
Your usual options include:
Hiking
The best season is understandably summer, that is, July and August. The most popular trekking trail in the country runs from Kangerlussuaq to Sisimiut on the west coast. The 150 km (94 mi) long, 10-14-day undertaking requires carrying your own tent and supplies and otherwise caring for yourself as there are no facilities along the way. The coastal ferry described below calls at Sisimiut harbour making it easy to continue your exploration from there.
Tasiilaq (Ammassalik) in East Greenland is another starting point for some serious wilderness trekking. Less strenous itineraries can be found just outside the town as well. It's perfectly possible then to station yourself at the Angmagssalik Hotel, a 3-star lodging option, and venture out for daily excursions.
Yet another alternative is to fly to Narsarsuaq in the south and start from there for a more leisurely walking tour between farms, fjords and old Viking sites, staying overnight in private houses and sleeping-bag accommodations.
Around Ilulissat in West Greenland there are several marked hiking routes following the shores of the famous Icefjord. Guided snowshoeing tours are often offered in winter as well.

Skiing
Crossing the icecap on skis while pulling a pulk with a tent and supplies behind you might be a hell of an adventure for seriously motivated athletes. Organised tours are offered in the end of spring. Be prepared to climb 2,500 m (8,200 ft) to the top of the icecap, then cover 540 km (335 mi) on ski in the course of a month.
Not-so-hardened adventurers can partake in less demanding cross-country and alpine skiing expeditions in East Greenland during March-April. Northern lights guaranteed!
Information and booking are available from Icelandic Mountain Guides, a contact link is provided below.
Mountaineering
East Greenland boasts the oldest rocks on the planet and some spectacular peaks formed out of them. The highest is Gunnbjørn Fjeld, 3,694 m (12,119 ft), named after the Norwegian who discovered the island for Europeans. However, many mountains have never been climbed and some don't even have a name. Explorers wanted!
Icelandic Mountain Guides offer organised expeditions for as few as 2 participants.
Dogsledding
From February to April you can be up for something. From a 2-hour tasting tour to a 7-day full-fledged expedition, everything is possible. Starting from Ilulissat in the west, or Tasiilaq in the east, you will be accompanied and catered for by local guides. During multi-day tours, nights are spent in hunting huts located in total wilderness. Consider this as an option. The experience of northern lights magnified by the isolated surroundings could be unforgettable.
Come prepared for the cold. The operators will probably offer to lend some warming clothes – those made of seal hides are a great choice – go for it!

Fishing and hunting
Greenlandic lakes, especially in the south, are home to Arctic char and salmon, while fjords are rich in cod, so chances are anglers will get their money's worth. Non-resident fishing licenses are available at police stations, tourist offices and some hotels.
Hunters, on the other hand, probably won't have as much fun, for many species – polar bears and muskoxen included – can't be taken by foreigners under any circumstances. The licenses for those that can, are rather steeply priced, for once. And then there's a problem of transporting that caribou from where it once dwelled to anywhere else. Bottom line, you'd be better off hunting in a country with a more developed road network.
Scenic flights
Whether you want to get a glimpse of the icecap or a nearby glacier, this could be your chance. Helicopter and small-plane flights are on offer from many airports throughout the year. However, they won't start unless fully booked or fully paid for, which might pose a problem for small parties in low season. And yes, they are expensive.

Boat and kayak trips
With all settlements situated along the coast, these are the most natural attractions. In Ilulissat, boat rides in the nearby Icefjord are available all year round. In the summer months it is also possible to venture out further north to the "calving glacier" Eqip Sermia and spend some time in its vicinity staying at a basic lodge. Refer to the link section below for details.

Climate and weather
As you've probably guessed, Greenland isn't particularly warm. Winters last from October to April and don't get much warmer than -20°C (-5F). Temperature drops below -40°C (-40F) are not uncommon, but they often bring calm weather, clear skies and high probability of northern lights.
Summer is short and actually limited to July and August. Unfortunately, July is also the peak mosquito season, and with boggy tundra all around, it shows big way. "Annoying" isn't nearly the right word to express how it can feel. Be prepared. Wearing long clothing shouldn't be much of advice, as you'd probably do it anyway considering the outside temperature would rarely exceed 15°C (60F). Invest in a head net and make use of your repellent. After the first week of August the air should slowly start clearing off.
For the rest, the Nuuk area and the southern tip of the island get the most rain in summer, while East Greenland enjoys the most stable weather pattern.
What to photograph
You'll find plenty of photographic subjects in Greenland – if you avoid the darkest part of the year from November to January. The landscape is spectacular. Snowcapped mountains, fjords filled with icebergs, and small settlements with colourful houses in summer; explosion of tundra colours at the outset of autumn; dog sleds and snow under the blue skies in the beginning of spring... The light is beautiful and the air is free of haze. You definitely won't regret coming!
In search of a perfect gift?
Consider Arctic Arc, a luxury photo book with 48 original panoramic photographs from Iceland and Greenland, seamlessly printed edge to edge over the fold!
Getting there and around
Not every thing of big size is necessarily easy to hit – sometimes you have to know how to aim at it. This is surely the case with Greenland. If you travel independently, getting there might become the biggest hurdle on your journey. That is, before you start moving around.

By air
The only airlines operating international flights to Greenland are Air Greenland and Air Iceland. The former fly daily from Copenhagen to Kangerlussuaq (Søndre Strømfjord, IATA code SFJ) establishing the main route for visitors to the country. In summer there are also several direct weekly flights from Copenhagen to Narsarsuaq (IATA code UAK). Finally, there are scheduled flights in summer between Reykjavík's international airport in Keflavík and Nuuk (IATA code GOH).
Two weekly Air Greenland flights between Nuuk and Iqaluit on Canada's Baffin Island with the same-day connection to Ottawa on First Air have been discontinued in 2015 due to lack of demand.

Alternatively, Air Iceland use their hub at Reykjavík's domestic airport (IATA code RKV) for scheduled flights several times a week to Ilulissat (JAV), Kulusuk (KUS), Narsarsuaq (UAK, summer only), Nerlerit Inaat (Constable Point, CNP, via Akureyri), and Nuuk (GOH).

For domestic flights, you are bound to use Air Greenland which serve some 60 heliports, airfields and airports around the country.

By sea
A complete different possibility of travelling to Greenland is by boarding a cruise ship. There are enough itineraries and ship variations to suit any taste. Bear in mind though that you'll probably disembark in Kangerlussuaq whose location deep inside a fjord is better suited for leaving the country rather than continuing exploring it.
Popular cruise routes visiting Greenland include the following:
from Iceland (Reykjavík) around the southern tip and further north along the west coast
from Iceland (Akureyri) to Scoresby Sund and/or King Oscar Fjord on the east coast, and back

Spitsbergen to Iceland, or vice versa, along the east coast of Greenland – a great opportunity to visit the national park
from Canada, taking in different parts of its Arctic Archipelago, Northern Québec, Labrador, and Newfoundland as well. Journeys along the Northwest Passage are especially popular
Greenland proper, i.e. tours both commencing and ending in harbours on country's west coast, from the Disko Bay area up to Qaanaaq and Siorapaluk in the extreme northwest, or down to Narsaq and Qaqortoq far south.
Consult the link section at the end of the page for the list of cruise tour operators.

For a less touristy approach, spend some time aboard the Sarfaq Ittuk ferry on its unremitting journey along the west coast. The vessel of Arctic Umiaq Line sails from mid-March through the first week of January between Ilulissat and Qaqortoq, calling at Aasiat, Sisimiut, Maniitsoq, Nuuk and Paamiut, among others. The return journey takes a week and includes a night-long stay in Qaqortoq.
The ferry, built in 1992 and refurbished in 2000, offers place for 249 passengers in couchettes and 4-bed private cabins. Prices for the longest one-way run between Ilulissat and Qaqortoq, or vice versa, vary from 3,200 DKK for a couchette in low season up to 7,125 DKK for a twin-cabin bed in summer. Single travellers can book cabins for themselves alone; the surcharge for single occupancy is 50% of the twin price.
Time and money
Greenland utilises 4 time zones, and observes daylight saving time in summer in 3 of them. From east to west, the "winter" time zones correspond to GMT (Danmarkshavn, all year round), GMT-1 (Ittoqqortoormiit), GMT-3 (West Greenland and Tasiilaq), and GMT-4 (Qaanaaq).
The country uses Danish krone as its currency unit, abbreviated DKK or Dkr. While ATMs – with somewhat restricted ability to withdraw money up to 2,000 DKK at a time – are only present in bigger settlements, paying by credit card isn't common at all. Should it be possible, ask how much you'll be charged extra for actually doing it. The fees depend on the card type and sometimes on the issuing bank. VISA owners should expect to pay 3.75% of the bill sum in kroner before their card issuer's exchange rate fee is applied. To avoid the latter, you might be offered an option to settle in your home currency. Be very careful accepting it, since the supposed benefit will be most definitely foiled by the punishing conversion rate.
Bottom line, bring some cash from home. If this isn't possible, get some at the landing point or as soon as you get the opportunity, before veering off the beaten track.

Connectivity
Electric outlets are of standard European type, fed with 240V / 50Hz AC.

The only communication provider on the island is Tele Greenland. International calling code of Greenland is +299, followed by a six-digit local phone number. To call abroad when in the country, dial 00 before the destination country code.

Wi-Fi might be available at some hotels but is rarely free.
Where to stay & eat
If you travel on an organised tour, your accommodation will be pre-booked and some, most, or all of your meals will be provided. The list is for your orientation in the options that might be on offer, and assistance in choosing from several of them. Individual travellers will find some resource links in the dedicated section below. Just keep in mind that Greenland isn't really a destination for travelling on a shoestring.
Ilulissat (West Greenland)
Being the third biggest settlement in Greenland and its main tourist destination, Ilulissat doesn't suffer from the shortage of accommodation options. These include a youth hostel, furnished apartments for self-caterers, bed & breakfast with local families, and not less than 4 hotels.
Hotel Arctic, the only 4-star accommodation in the world north of the Arctic Circle, is owned by Air Greenland and situated halfway between the town and the airport. Hotel guests can use a free shuttle service to both destinations. Rides to the town centre and back have fixed departures once every hour during the day, while the airport shuttle serves all incoming and outgoing flights. Passengers travelling on Air Greenland can check in at the hotel desk.
The hotel's 3 wings are situated on a steep hill overlooking Disko Bay and the entrance to the famous Icefjord, a UNESCO World Heritage site. The views are spectacular indeed. Rooms and suites in different categories have all amenities you'd expect from such an establishment anywhere in the world. Heated floors in the bathrooms are particularly welcome in winter. In summer, there is a possibility to stay in 5 individual, aluminium-clad "igloo" suites perched before the hotel front just above the bay.
The hotel has a restaurant and a cafeteria on the premises. The Ulo restaurant offers one of the best opportunities for fine dining in Greenland (the other one being Sarfalik at the Hotel Hans Egede in Nuuk, also operated by Air Greenland). The restaurant is open for dinner from 6 to 9pm, prior reservation is required. For those staying in town, a 2km (1.25mi) long walk uphill to the hotel from the centre should take around 30-45 min. Alternatively, a taxi ride will cost about 60-70 DKK one way.

Other hotel options in Ilulissat are all of the 3-star standard:
The newly opened Hotel Avannaa is located just a bit closer to the town than the neighbouring Arctic, however without the views and the grandeur of the latter. The restaurant only serves breakfast.
Hotel Hvide Falk (White Falcon), the oldest in town, opened in 1967. Strategically situated in the town centre, it has a restaurant on the premises serving Greenlandic and Thai cuisine from 6 to 8pm in the evenings, and a limited choice of economically priced dishes for lunch (from 12 to 2pm, main courses around 100 DKK).
Hotel Icefiord is close to its namesake in the southwest corner of the town. The restaurant opens daily for lunch (12 to 2pm) and dinner (6 to 9:30pm).
Kulusuk-Tasiilaq (East Greenland)
Both Kulusuk, linked to Reykjavík by a daily 2-hour flight in summer, and Tasiilaq, a further 10-minute helicopter or 2-hour boat transfer away, sport modern hotels under the same family management. Their pristine and isolated surroundings offer activities for any taste, be it hiking, trekking, fishing, kayaking, dogsledding and whatnot, all of which can be organised from the premises. Helicopter charter out of Tasiilaq heliport is also available.
Hotel Angmagssalik in Tasiilaq offers fantastic views from its location on a hill slope at the end of a steep climb from the town. While the sights are really to behold, you'll need to be reasonably fit and/or allow enough time for walking.
If you are on a rather strict budget, which is way relative in regard to Greenland, other lodging options in the vicinity include a hostel in Kulusuk, run by Icelandic Mountain Guides and open to all travellers, as well as a guesthouse in Tasiilaq. The latter, known as The Red House, offers different accommodation types and meal options, from camping to rooms with private facilities in a new annex, and from self-catering to full board. It is housing of choice with many European tour operators and can get full in summer. Plan ahead.
Narsaq (South Greenland)
South Greenland seems to be a great destination which I have yet to visit myself. If you happen to come before me, Hotel Narsaq with different accommodation options and an associated restaurant, looks like well worth staying at. Please comment below if you've already been there! (Under new management since 2014.)
Tags: #greenland #travelguide #coolplaces
Useful links for Greenland travel

Here's how to connect with Greenland travel businesses online. External links will open in a new browser tab or window.
Greenland pictures

Airlines
Coastal ferry
Cruise ship operators
Hotels
Organised tours
Other destinations

Tell me what you think!
Is it useful 👍? Awful 👎? Leave a message! Your comments help make this site better (and give me a kick—one way or another).
Popular articles
If a digital picture has to be seen in the real world, printed on a real medium and displayed in a real showcase, its transition from RAW to real is better done in an old school image editor. Enter A…

If you got your own place on the Internet, helping your visitors find what they are looking for is a great way to engage them and keep them staying a bit longer. A custom site search can achieve just …

Aiming for better images? Think better lenses! This is your most important piece of gear, so you better get it sorted out. — Need some advice?