Of ice and fire: Iceland travel guide
Travelling to Iceland is a very rewarding experience. The island halfway between Europe and North America has it all. From the vibrant streets of its small capital, Reykjavík, to the natural wonders of the wild interior, what's on offer is an astounding mixture of attractions in a relatively compact space. Throw into account the highly developed tourist sector, the friendliness of the Icelanders, and the easy accessibility for both Europeans and North Americans, and there's no real excuse for staying at home.
You may want to rotate your phone in order to improve your browsing experience on this site.

Looking for unique wall art?
If you like pictures on this page, be sure to visit the online shop and browse prints of Iceland landscapes available there.
Ask for a quote on your favourites, made to order with exact dimensions and your choice of frame!
Quick links
Where in the world...
Satellite image of Iceland in winter


NASA Visual Earth image gallery
Iceland occupies a distinct, heart-shaped island between the Arctic Ocean and the North Atlantic, roughly in the middle between Europe and North America and just to the south of the Arctic Circle. It is the second biggest European island state spanning the area of 103,000 km² (40,000 sq mi).
The nearest land mass is Greenland, while the closest point on a continent lies in Norway. The terrain is formed by volcanic activity and dominated by mountains, glaciers and lava fields. Glaciers spread over 11%, or one ninth, of island's territory. Many rivers originating on their fringes cross the country and adorn it with spectacular waterfalls. 23% of land cover is not vegetated. Some superlatives of the Icelandic landscape include:
The highest summit is Hvannadalshnúkur, 2110 m (6921 ft)
The longest river is Þjórsá at 230 km (143 mi)
The highest waterfall is Morsárfoss, discovered in 2007 (!) and measured in 2011 at 227.3 m (744 ft) in its visible part. Its total height with parts covered by ice is estimated at over 240 m (786 ft)
Vatnajökull is the largest glacier with the most ice in Europe
Dettifoss is Europe's most powerful waterfall
A crater of the Snæfellsjökull volcano featured in Jules Verne's novel A Journey to the Centre of the Earth (1864) as the entry point for that same journey.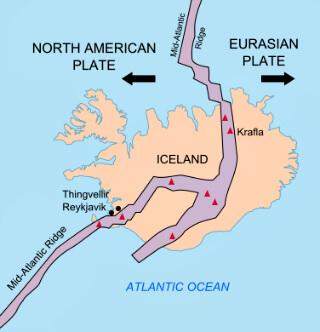 The Mid-Atlantic Ridge splitting Iceland


United States Geological Survey
The island straddles the continental divide, and thus is geologically part of both Europe and America. Their continental plates moving in opposite directions tear Iceland apart and keep numerous volcanos along the Mid-Atlantic Ridge dangerously active. They erupt on a regular basis, constantly shaping and re-shaping the surface of the island and pushing it every now and then to the top of international headlines. The 2010 eruption under the Eyjafjallajökull glacier disrupted the air travel in northern Europe for a week, accounting for over 100,000 flights being cancelled. The latest eruption, of Bárðarbunga, has ceased as recently as in February 2015.
When to go
Surprisingly enough, Iceland is an all-season destination, despite its northerly location. The nearby Gulf Stream "makes" the weather, rendering winters rather mild and summers predominantly cool, particularly along the coastline. The proximity to the ocean also means that the island receives a measurable amount of precipitation and is prone to strong winds and quick weather changes, especially in the south. The northern coast with Akureyri and the popular Lake Mývatn region enjoy the most stable weather pattern. The uninhabited interior gets much colder in winter and can become pretty warm during the short summer.
Summer
The main season doesn't take off before July, and even then some passes on mountain roads in the interior stay closed until the middle of the month. The peak season lasts until mid-August. During this time, most visitors come, all tourist services are open for business, and accommodations often fill up, especially the smaller mountain huts in the interior. Temperature during the day is usually in teens or low twenties degrees centigrade (50-70F). Rain is always a possibility, even without clouds in sight. The Lake Mývatn region lives up to its name, meaning "mosquito lake", buzzing with pretty annoying flies. They don't bite, though.

Shoulder seasons
June and the first two weeks of September are usually fine for visiting most areas. Some passes leading to the interior are still closed in June, and can get closed as early as the end of August. Smaller accommodations outside bigger settlements and farther off the ring road can be closed. Plan accordingly.

Fall to spring
September is the month when sheep are gathered from their summer pastures. From October on, you can only rely on organised tours if you venture out of Reykjavík. However, the most touristy attractions like the Golden Circle, the Blue Lagoon, and the south coast are offered on daily excursions all the year. Northern light tours are in high demand as well, provided the weather plays along (which it often doesn't). Even visits to the interior in 4x4 vehicles are regularly on offer.
New Year's eve celebration in the capital is a sight to behold, with excessive fireworks and an all-night-long bar crawl. Elsewhere in the country, traditional bonfires, brennur, are the place to meet the locals.
The temperature in Reykjavík rarely falls below zero degrees centigrade (30F) in winter, while flight ticket prices drop significantly. Accommodation is readily available, too. Icelandair offer inexpensive packages with flight and up to 7 nights hotel stay in Reykjavík during the season.

The spring usually settles in mid-May. The days get longer, the land covers with fresh green and colourful flowers, and newborn lambs venture out of stables. This is the ideal time for birders and anglers. There is still snow in the mountains, and day temperature rarely climbs above 5°C (40F).
How to get there
With Iceland being an island, there are only two possible ways of getting there and back.

By air
Most visitors to Iceland land at the international airport in Keflavík (IATA code KEF), situated 50km (30mi) away from Reykjavík, in the west of the Reykjanes peninsula. Icelandair use the airport as their hub, operating flights to Europe and North America. Other airlines with year-round passenger service to Keflavík include airBaltic, British Airways, Czech Airlines, Finnair, Lufthansa, and SAS. Low-cost carriers are represented by easyJet, Iberia Express, Norwegian, Transavia, and Wizz Air.
Iceland's own low-cost airline WOW air ceased operations in March 2019.
Following airports have scheduled direct flights to/from Keflavík all year round: Amsterdam, Barcelona, Bergen, Berlin (Tegel), Boston, Brussels, Budapest, Chicago, Copenhagen, Denver, Dublin, Edinburgh, Frankfurt, Glasgow, Helsinki, London (Heathrow, Gatwick, and Luton), Madrid, Manchester, Minneapolis/St. Paul, Munich, New York (JFK and Newark), Orlando, Oslo, Paris (Charles de Gaulle and Orly), Prague, Riga, Seattle, Stockholm (Arlanda), Toronto (Pearson), Vancouver, Vienna, Vilnius, Warsaw, Washington (Dulles), Zurich.

There are even more seasonal connections, both in summer and winter.

The Chinese Juneyao Airlines announced the first direct flights from Asia to commence in the end of March 2020 from Shanghai-Pudong.
Since low-cost airlines have been in business, ticket prices stay reasonable. Understandably, they rise during the summer and around Christmas, but that's the case with any seasonal destinations. Connecting in Keflavík on Icelandair flights between Europe and North America is an option well worth considering. Transfers are swift most of the time, as flight schedules are specifically penned with them in mind.
Arriving in Iceland is very straightforward. With the country being a part of the Schengen Area, most visitors from Europe don't even have to cross the border. Duty-free shops are accessible to all arriving passengers.
Getting to downtown Reykjavík from the airport takes around 45 minutes on any of the two bus services, Reykjavík Excursions' Flybus or Gray Line Iceland's Airport Express. The former will drop you off at the BSÍ bus terminal, the latter at the Gray Line terminal on Lækjartorg in the city centre. Subsequent transfer to your accommodation in the capital area is included in the Airport Express ticket price (3,050 ISK one-way/5,750 ISK return) and for holders of a flybus+ ticket (3,950/6,950 ISK, respectively). Flybus passengers not requiring drop-off at the hotel pay 2,950/5,500 ISK. Tickets are available in advance from both operators' web sites, at their respective city terminals, from hotels and guesthouses in the city area offering pick-up and drop-off service, and on buses themselves. Buses depart from the airport 30-40 minutes after every landing and return 1.5-2 hours before every scheduled departure.
Update summer 2018: Gray Line airport transfer is now also available without drop-off/pick-up at the accommodation, for 2,450 ISK one way/4,790 ISK return.
By sea
For a more adventurous approach, the car ferry Norröna of Smyril Line connects every week Hirtshals in Denmark with Tórshavn in the Faroe Islands. From the end of March until the end of October, it continues further to the harbour of Seyðisfjörður in East Iceland.
From June to August, the journey commences in Denmark on Tuesday and takes 45 hours before arriving in Iceland on Thursday morning. It is also possible to leave Denmark on Saturday and spend 3 days in the Faroes before boarding the ferry again for the last stretch. In spring and autumn, the trip Denmark-Iceland lasts from Saturday afternoon to Tuesday morning, including a nine-hour stay in Tórshavn.
The ferry leaves Iceland for Denmark on Thursday morning in summer and on Wednesday evening in spring/autumn, returning to Hirtshals on Saturday.

The accommodation options on board include suites, 4- and 2-berth cabins, single berths in shared cabins, and bunks in shared compartments (couchettes). One-way prices for single travellers range from around 180€€ for a couchette in low season up to 620€€ for a single outer cabin in peak season. A couple travelling together will have to pay between 440€€ for an inner cabin in low season and 1,290€€ for a suite in summer. Taking a standard car with you will additionally cost from 140€€ to 330€€; a motorcycle is €75€ to €180€, depending on season. One-way bookings are subject to 10€€ surcharge. Payments by credit card incur additional charges.

If you don't mind spending several days on a ship amid the North Atlantic, travelling to Iceland by sea might have some advantages:
you can save some money compared to air ticket prices, especially when travelling in a group;

you can bring along your own vehicle;

you can choose to spend some time in the Faroes, a worthwhile destination on its own;

you will encounter East Iceland, a part of the country rarely visited by tourists arriving by air at its opposite end.

On a cruise ship
This is sort of a mix of two other options, as in arrival by sea but at the airport end. Obviously, it is not the cheapest one.

Reykjavík harbour has been increasingly becoming a popular station for exchanging passengers between cruises in the Arctic. It's easy to comprehend why. The city is in the vicinity of a modern international airport with manifold connections, see above, thus avoiding the necessity of expensive charter to fly the embarking and disembarking passengers in and out. The harbour itself offers comfortable piers, not always a given in the North, and is situated just a short walk away from the city centre. And the location is perfectly suited for pre- or post-cruise vacationing. If you go on land in Reykjavík after your cruise, make yourself a favour and stay for some memorable days before heading home.

Aside from this, some operators offer cruise itineraries around Iceland, starting and finishing in Reykjavík. This would be one of the most comfortable options of Iceland travel, if probably not the most engaging one, in my opinion.

In search of a perfect gift?
Consider Arctic Arc, a luxury photo book with 48 original panoramic photographs from Iceland and Greenland, seamlessly printed edge to edge over the fold!
How to move around
If you are not on an organised tour and want to spend some time outside Reykjavík on your own, here are some suggestions.

By air
Domestic flights depart from Reykjavík city airport (IATA code RKV), 2km (1.25mi) away from the city centre. A taxi ride to the terminal shouldn't cost more than 1,600-2,000 ISK. Both Air Iceland and Eagle Air offer several daily flights each to different inland destinations. Akureyri, Egilsstaðir, Ísafjörður, Grímsey via Akureyri, and Vopnafjörður via Egilsstaðir are served by Air Iceland, while Eagle Air caters for smaller airports in Bíldudalur, Gjögur, Húsavík, Höfn, and Vestmannaeyar.
Air Iceland also operate international flights to Greenland from the airport. These connect Reykjavík several times a week with Ilulissat, Kulusuk, Narsarsuaq (only in summer), Nuuk, and Nerlerit Inaat (Constable Point) via Akureyri. Flights to the Faroe Islands' airport in Vágar are operated by Atlantic Airways in code share with Air Iceland.
By bus
Several bus companies offer scheduled connections to different parts of the country heading for all major settlements as well as popular destinations in the interior, like Þorsmörk and Landmannalaugar. In addition, you can buy a bus passport for a single or multiple travels along a fixed route.
Operators include Reykjavík Excursions, SBA-Norðurleið, Sterna Travel, Strætó, Trex, and Westfjords Adventures.

By car
Self-driving tours offer a great opportunity to travel at your own pace and to get to know the country intimately. The road network spans 13,000 km (8,100 mi) roughly a third of which is paved. Route 1, the ring road following the coast and completed in 1974, encompasses 10% of the entire network.
Car rentals are readily available. Bear in mind that you are not allowed to travel on mountain roads in a rented car without 4-wheel drive.
By ferry
The most popular ferries operate between Stykkisholmúr and Brjánslækur (for the Westfjords), Landeyahöfn and Vestmannaeyar, Dalvík and Grímsey, Ísafjörður and Hesteyri (on Hornstrandir), as well as Reykjavík and Viðey.
Links to Iceland travel companies mentioned above are collected at the end of the page.
Time, money, and connectivity
Iceland is throughout the year on GMT.
The currency is króna, Icelandic plural krónur, abbreviated ISK. In the aftermath of the 2008 financial crisis, the króna lost half of its value and has now very favourable exchange rates.

| | |
| --- | --- |
| 1 EUR = approx. 155 ISK | 10,000 ISK = approx. 65 EUR |
| 1 USD = approx. 125 ISK | 10,000 ISK = approx. 75 USD |
| 1 GBP = approx. 180 ISK | 10,000 ISK = approx. 55 GBP |
ATMs are available in bigger settlements. Credit and debit cards are accepted virtually everywhere and without extra fee – only your card issuer's exchange rate surcharges will apply. All foreign visitors are eligible for partial VAT refund on purchases totalling over 6,000 ISK on a single receipt and intended to be brought out of the country.
Power outlets are of the standard European type, with 240V/50Hz AC for plugs with two round pins. Remember to pack an adapter if travelling from Britain or North America.
When calling to Iceland, dial its country code, 354, followed by the seven-digit phone number. From Iceland, dial 00 before an international number. Two local GSM network operators, Síminn and Vodafone Iceland, have almost all of the country covered.
Meet the locals
350,000 people live in the country, significantly less than in any city of size. With just above 3 inhabitants per square kilometre (8 per square mile), Iceland is the most sparsely populated country in Europe.
The Icelanders, like many northerners or islanders, may appear reserved at first glance. However, it only takes a short conversation – seemingly everyone speaks English – to recognise them as some of the friendliest and most helpful people. Should you ever get into trouble during your Iceland travel, just let someone know about it. You'll be surprised how efficient the Icelandic way of solving problems can be.
To make contact, visit some bar on a weekend evening in Reykjavík, take a soak in the hot pot of a public swimming pool, or attend one of the many festivals around the year.
Tags: #iceland #travelinfo #amazingplaces
Useful links for your Iceland travel

Here's how to connect with Iceland travel businesses online.
Iceland photos
Airlines
Bus operators
Ferries
Further articles on Iceland travel

Other destinations

Tell me what you think!
Is it useful 👍? Awful 👎? Leave a message! Your comments help make this site better (and give me a kick—one way or another).
Popular articles
If a digital picture has to be seen in the real world, printed on a real medium and displayed in a real showcase, its transition from RAW to real is better done in an old school image editor. Enter A…

If you got your own place on the Internet, helping your visitors find what they are looking for is a great way to engage them and keep them staying a bit longer. A custom site search can achieve just …

Aiming for better images? Think better lenses! This is your most important piece of gear, so you better get it sorted out. — Need some advice?