Reykjavík accommodation: Places to stay in Iceland's capital
Reykjavík accommodation offers choices for every taste and budget. From a camping site to a 4-star hotel, you'll be able to find your home away from home fitting your needs and wallet. Advance booking is strongly recommended, especially when visiting in summer.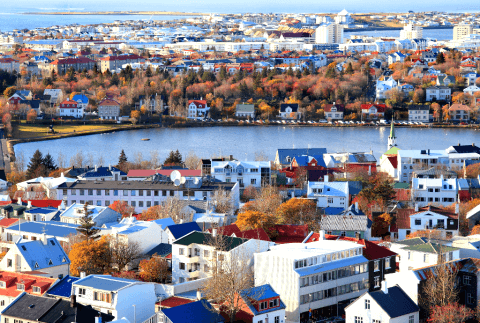 In search of a perfect gift?
Consider Arctic Arc, a luxury photo book with 48 original panoramic photographs from Iceland and Greenland, seamlessly printed edge to edge over the fold!
You may want to rotate your phone in order to improve your browsing experience on this site.

Quick links
Hostel accommodation in Reykjavík
Reykjavík boasts 3 Hostelling International hostels. Two of them situated in the very centre of the capital, Reykjavík Loft and Reykjavík Downtown, were named no. 1 and 2 in the world, respectively, in 2014.
Reykjavík City Hostel in Laugardalur is located a half-an-hour walk away from the city centre near the camping ground, a swimming pool, the Zoo and botanical gardens. Both Flybus and Airport Express will drop you off there. At other times, city bus no. 14 stops nearby.

Hostelling International Reykjavík hostels
All HI hostels offer some double rooms with linen and private facilities, as well as breakfast buffet, cooking facilities, free Wi-Fi and luggage storage. The Loft houses a fully licensed bar on its premises.

KEX Hostel occupies a former biscuit factory building close to the Hlemmur bus station east of the centre. It's a rather big venue with 142 beds. 12 single and double rooms, 2 of which have private facilities, and 2 family rooms with bunks offer made-up beds. There is a fully-licensed "gastro-pub" in the house and a lounge area which regularly hosts small concerts and other events. Tuesday nights are usually reserved for jazz performances from Icelandic and international artists; admission is free.

Guesthouses and B&Bs
Most accommodation options in the capital area, and elsewhere in Iceland for that matter, will probably fall into this category. They offer simple single/double or family rooms with shared and/or private facilities, small kitchens, free breakfast and Wi-Fi/computers with Internet access. Often conveniently located and reasonably priced, they are great value for otherwise rather expensive Icelandic standards.

Situated just opposite Hallgrímskirkja, within walking distance to everything in the city centre, Guesthouse Sunna offers rooms with shared or private bath, studios, and apartments for up to 6 persons. Breakfast is included in all room rates, Wi-Fi is free anywhere on the premises, and the reception is open around the clock. Both airport transfer services are available. NB: There is no elevator in the 4-storey building.

Not far away, in the embassy quarter, Guesthouse Galtafell is a historical building from 1916. Several rooms with shared facilities and suite-style apartments for up to 4 persons with private bathrooms are available. All rooms have flat-screen TVs and free Wi-Fi Internet access. Breakfast is included. Pets are welcome and actually live in the house – a cat and a dog. Both airport services provide direct transfer to and from the guesthouse. The entrance to the guesthouse is above street level over a flight of stairs. There is no elevator in the building.

Within a short distance from the domestic terminal of Air Iceland, in a quiet residential area, Bed and Books B&B offers 4 rooms in the family home of its owners, a French-Icelandic couple. The house was built in the 1930s. The hosts will borrow you books from their extensive collection, and DVDs for the player in your room. Free Wi-Fi is available, as is a self-service breakfast. Every 2 rooms share a bathroom. Flybus+ provides a direct transfer to the B&B. With Airport Express, you can choose to get off at the national airport nearby. NB: Evening check-in is possible until 8 pm.

West of the city centre, close to the exciting Old Harbour and Grandi districts and only a few houses apart, Butterfly and Captain Reykjavík guesthouses are very much alike. Family- or friends-owned and -operated, they both offer rooms with shared facilities, as well as apartments with private bathrooms. Free Wi-Fi on the premises and complimentary breakfast are provided in either accommodation. Direct airport transfer is available with Airport Express. Ask to drop you off at Hotel Metropolitan in the same street when arriving on Flybus.

Captain Reykjavík has now a second location near the Hallgrim's church, at Bergstaðastræti 60.
For self-driving guests, Minna-Mosfell Guesthouse off road 36 to Þingvellir, in Mosfellsdalur, is a charming and cosy alternative to staying in the city. 3 available rooms share a self-catering kitchen stocked with breakfast fare, a dining/sitting area with a balcony, and a bathroom. There is a double bed in each room, with 2 additional twin beds in larger rooms. Parking and wireless Internet access are free. There are several hiking trails in the vicinity of the farm, and both the capital and the Golden Circle are a mere 20-minute drive away.

Hotels in Reykjavík
With the abundance of other accommodation options in and around the capital, it is not really necessary to stay in a hotel. First, they tend to be on the expensive end of the already elevated Icelandic price range. And then, service at smaller guesthouses is often a much more personal affair.
However, if you crave for some toiletries in your bathroom, the 3-star Hótel Frón on Laugavegur is centrally located and reasonably priced. They have different room types in several adjacent buildings. The Scandinavian brasserie next door offers 10% discount for hotel guests.
No matter what accommodation option in Reykjavík you choose, I wish you a pleasant and exciting stay!

Tags: #reykjavik #bestplaces #wheretostay
Useful links for Reykjavík accommodation

Learn about and book your stay at one of the best hostels in the world.
Lodge in a former factory building close to the city centre.
Stay with a family at their home near the domestic airport.
Two similar Reykjavík accommodation options in the vicinity of each other, close to the Old Harbour.
Sleep in a historic building in the embassy quarter of the capital.
Live on a farm along the road to the attractions of the Golden Circle.
A welcoming option across from Hallgrímskirkja in a walking distance to anywhere in the centre.
Conveniently located, affordable 3-star Reykjavík hotel with wide selection of room options.
Other articles about Reykjavík
Introduction to the great small city: seasons, events, and connections.
Take a stroll around the town or a short ride to its neighbouring attractions.
There's always much to do in Reykjavík: make the best from your visit!
Dining options in the capital of Iceland are plentiful, with the notable absence of fast-food chains. Good for you!
Other articles about Iceland
General information about Iceland.
Read about sights and activities in different regions of Iceland.
Tell me what you think!
Is it useful 👍? Awful 👎? Leave a message! Your comments help make this site better (and give me a kick—one way or another).
Popular articles
If a digital picture has to be seen in the real world, printed on a real medium and displayed in a real showcase, its transition from RAW to real is better done in an old school image editor. Enter A…

If you got your own place on the Internet, helping your visitors find what they are looking for is a great way to engage them and keep them staying a bit longer. A custom site search can achieve just …

Aiming for better images? Think better lenses! This is your most important piece of gear, so you better get it sorted out. — Need some advice?