Things to do in Reykjavík: The very best of Iceland's capital

Reykjavík has plenty going on in any season. The list of activities and attractions is long, and there is always something for everyone to choose from.

In search of a perfect gift?
Consider Arctic Arc, a luxury photo book with 48 original panoramic photographs from Iceland and Greenland, seamlessly printed edge to edge over the fold!
You may want to rotate your phone in order to improve your browsing experience on this site.

Quick link
Go on a tour
There are few places in Iceland which are not accessible on a day tour from its capital. With flights as means of transportation, even excursions to such remote destinations as Lake Mývatn, West and East Fjords, or whale watching off the north coast are possible from Reykjavík on a daily basis. For ideas, refer to the detailed country guide.

The city itself is a wonderful ground for exploring on foot or bicycle, or newly even Segway. Aside from organised tours, you can design your own routes and proceed at your own pace – see my Reykjavík city guide for an example.

Climb a mountain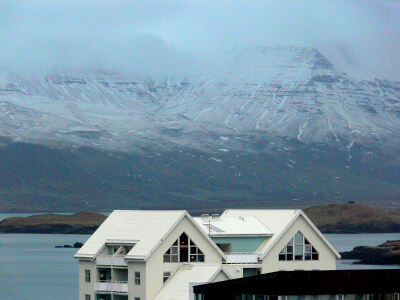 Mount Esja and Viðey as seen from Reykjavík
Mount Esja, standing high at respectable 914 m (quite exactly 3,000 ft) to the north-east of the capital, is a rewarding close-by destination for hikers and mountaineers. There are several well-marked paths up and around the mountain with different levels of difficulty signposted along the way. To reach the entry point, take bus no. 15 from Hlemmur to Mosfellsbær and change at Háholt to bus no. 57 for Esjuskáli.

Escape to an island
Take a ferry to the nearby Viðey island. The island in sight of the capital is a great destination to escape the city without actually leaving it. The spot features antic ruins, one of the oldest churches in Iceland and its first stone building. There are walking trails, a horse population and two impressive art projects – Imagine Peace Tower by Yoko Ono and Áfangar by Richard Serra. The island is served by ferry from Skarfabakki pier in the east harbour with hourly departures every day from mid-May through September. During the rest of the year, there are 3 departures in the early afternoon on weekends only. In summer the ferry also makes a few runs from/to the Old Harbour stopping at Harpa along the way. Skarfabakki is accessible by city bus no. 16 from Hlemmur. The ferry is free with Reykjavík City Card.

Look for a whale (or two)
Whale-watching tours in the Reykjavík bay are very popular with visitors to the capital. The average probability to actually see one of the animals on these tours amounts to 85% during the summer. Several businesses in the Old Harbour area offer other itineraries as well, like puffin-watching from May to August. Reykjavík City Card owners get 10% discount on tours with Elding.

Watch a movie
Wondering how to engage yourself on a rainy afternoon in the capital of Iceland? Go to the movies! Bío Paradís in Hverfisgata screens current Icelandic movies with English subtitles and other art-house fare. The Cinema in the Old Harbour shows nature and documentary works of the director Valdimar Leifsson.

Take a plunge
Aside from visiting some of Reykjavík's pools, the unique Nauthólsvík geothermal beach is quite a different experience. The artificial lagoon, complete with the white-sand shore, opens to the sea and is filled with geothermal water, making it possible to actually swim in rather temperate North Atlantic. The temperature of the water mix varies depending on the season and tide schedule and can reach 20°C (just below 70F) in summer and racy 10°C (50F) in winter. There are usual pool amenities on the premises like hot tubs, steam bath, showers and changing facilities. City bus no. 5 goes here from BSÍ and Hlemmur.

Reykjavík has much to offer to an inclined shopper. There's something for every taste. Prices are not cheap, but you would expect that considering the VAT rate of 24%. Don't forget that as a visitor, you are eligible to tax refund, that is up to 15% off purchases of 6,000 ISK in total and more.

Icelandic VAT refund
The most convenient way to claim your refund is as follows:

Ask the salesperson for a tax-free receipt
Fill in your name, home address, and credit card number on every receipt
Sign all receipts
If the refund amount from a single receipt exceeds 5,000 ISK, get a stamp from the customs in the departure hall at the airport before heading upstairs for the security check. You don't need the stamp if any single refund is below this amount, even if their total is above
After security, put your receipts into a designated box for credit card refunds at the Landsbanki counter
A few weeks later, the refund will be debited in full in your home currency to your credit card.
Below are some suggestions for what and where to buy. Most shops are open on weekdays between 10 am and 6 pm, with shorter opening hours on Saturdays.

Best Iceland shopping choices on a stroll in Central Reykjavík
Icelandic design – Kraum, Laugavegur 18B. Great selection of design and fashion items from local makers. Regular exhibitions. Opens daily.
Fashion –

Farmers Market, Hólmaslóð 2, in the far corner of Grandi
Geysir, Skólavörðustígur 16. Opens daily until 10 pm and features both Icelandic and international brands
GK Reykjavík, Skólavörðustígur 6
Herravataverzlun Kormáks & Skjaldar, Laugavegur 59. Difficult to spot, in the basement of a supermarket, a men's store with the distinct British touch, complete with a barber shop
Icewear, Þingholtsstræti 2. Woolen outdoor clothing, opens daily until 10 pm.
JÖR, Skólavörðustígur 22. Icelandic high fashion by Guðmunður Jörundsson, opens daily.
Kiosk, Ingólfstræti 6. Collections by six Icelandic designers, presented by the creators themselves
Music – 12 Tónar, Skólavörðustígur 15. You can spend hours here listening to music and chatting with the owners while enjoying a cup of espresso. Huge collection of CDs and vinyl to choose from. Opens until 9 pm.

Jewellery –

Aurum, Bankastræti 4
Gilbert Úrsmíður – JS Watch Company, Laugavegur 62. Maker of mechanical watches with several illustrious international customers. Will adorn your watch with personal touches like engravings etc.
Tags: #reykjavik #thingstodo #wheretoshop
Useful links
Plan your escape from the city to its nearest uninhabited island.
Go to the movies! Get a glimpse of local nature – in different meanings at either location.
Other articles about Reykjavík
Introduction to the great small city: seasons, events, and connections.
Take a stroll around the town or a short ride to its neighbouring attractions.
From a camping site to a 4-star hotel, there are many accommodation options for every budget. Find out which are the best.
Dining options in the capital of Iceland are plentiful, with the notable absence of fast-food chains. Good for you!
Other articles about Iceland
General information about Iceland.
Read about sights and activities in different regions of Iceland.
Unattributed images on this page are sourced from Wikimedia Commons.
Tell me what you think!
Is it useful 👍? Awful 👎? Leave a message! Your comments help make this site better (and give me a kick—one way or another).
Popular articles
If a digital picture has to be seen in the real world, printed on a real medium and displayed in a real showcase, its transition from RAW to real is better done in an old school image editor. Enter A…

If you got your own place on the Internet, helping your visitors find what they are looking for is a great way to engage them and keep them staying a bit longer. A custom site search can achieve just …

Aiming for better images? Think better lenses! This is your most important piece of gear, so you better get it sorted out. — Need some advice?